Los Angeles
(58-69) at St. Louis
(67-61)
August 23, 2011
7:15 PM ET, 6:15 PM CT, 5:15 PM MT, 4:15 PM PT
Busch Stadium, St. Louis, Missouri
TV: FSPT, FSMW
RADIO: KMOX 1120

C. Kershaw (15-5, 2.60) K. Lohse (11-7, 3.33)
http://sports.yahoo.com/mlb/preview?gid=310823124
Quote:
Clayton Kershaw has been one of baseball's best pitchers this season, making the Los Angeles Dodgers starter a strong contender for the NL Cy Young Award.

The St. Louis Cardinals are one of the few teams to get the better of him.

Kershaw looks to avenge an earlier loss when the Dodgers and Cardinals continue their series Tuesday night at Busch Stadium.

Among the league leaders in wins, ERA and innings pitched (183 2-3), Kershaw (15-5, 2.60 ERA) has dominated much of his competition pitching for a team well out of the playoff race.

Despite Monday's 2-1 victory over the Cardinals, Los Angeles (58-69) sits in last place in the NL West and has lost five of eight.

Kershaw, though, has been going about his business quite well. He's allowed two or less earned runs in seven of his last eight starts, going 7-1 with a 1.33 ERA during that span.

The left-hander has already set a career high in wins in his fourth season.

"What else can you ask from the guy?" manager Don Mattingly said. "He's a strikeout guy. His walks are down. He pitches deep in games. He saves your bullpen. He likes being THE guy. He's doing everything you can possibly do.

"To me, it doesn't matter where he's at, who he's facing, he's just dominant."

St. Louis has been one of the few teams to get to Kershaw this season. He allowed five runs in a season-low 4 2-3 innings of a 9-2 loss April 16 at Dodger Stadium and has a 9.00 ERA in his past two matchups.

Kershaw looks to help the Dodgers win back-to-back games in St. Louis for the first time since July 9-10, 2003. The Cardinals (67-61) have won 21 of 26 meetings at home since then.

Aaron Miles had an RBI triple and scored the go-ahead run in the ninth inning after Chris Carpenter held Los Angeles scoreless for eight innings. James Loney had three hits and is 7 for 8 over his last two games.

Cardinals left fielder Matt Holliday experienced a strange moment when a moth flew into his ear in the eighth inning. He was forced to leave the game as the training staff removed the moth. There was no immediate word if the incident will keep Holliday out of Tuesday's game.

Lance Berkman hit his 29th homer Monday while Albert Pujols - 7 for 15 lifetime off Kershaw - went 1 for 4.
"It's no more disappointing than the others we've lost in similar fashion," Berkman said. "A loss is a loss. They're all disappointing."

St. Louis is running out of time to catch Milwaukee in the NL Central. It has lost five of seven and sits nine games back of the first-place Brewers with 34 games remaining.

The Cardinals will counter with Kyle Lohse (11-7, 3.33), who looks to build on a run of solid outings and beat the Dodgers for the second time in as many tries this season.

The right-hander is 3-0 with a 2.53 ERA in his last four starts, allowing two runs in seven innings of Wednesday's 7-2 win at Pittsburgh.

He was an 11-2 winner at Los Angeles on April 15, yielding two runs and six hits in 7 1-3 innings.

Miles has been the most successful current Dodger against Lohse, going 5 for 13 lifetime.
The Series:
St. Louis leads season series 3-1 (as of Mon 8/22)
August 22, 2011-Los Angeles 2, St. Louis 1
August 23, 2011-LAD (Kershaw) @ STL (Lohse)-7:15 PM CDT
August 24, 2011-LAD (Kuroda) @ STL (Garcia)-1:15 PM CDT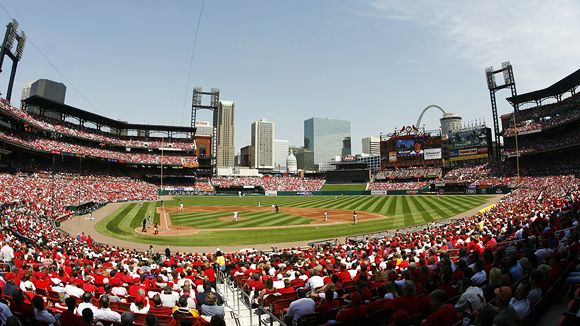 2011 Current MLB Standings
2011 Current MLB Wild Card Standings
2011 Current MLB vs. Division Standings
2011 Current MLB vs. Expanded Standings
Baseball Prosepectus Adjusted Standings
Last Game:
Los Angeles 2, St. Louis 1
WP: M. Guerrier (4-3) S: J. Guerra (11)
LP: F. Salas (5-5)
HR: STL - L. Berkman (29)
http://sports.yahoo.com/mlb/recap?gid=310822124
Miles' RBI triple keys Dodgers rally over Cards
Quote:
ST. LOUIS (AP) -- Aaron Miles had no desire to face Cardinals starter Chris Carpenter again.

Fortunately for Miles, he didn't have to.

Miles hit a tying triple in the ninth inning off Fernando Salas and then scored the go-ahead run on a bobbled grounder, rallying the Los Angeles Dodgers over St. Louis 2-1 Monday night.

Miles had been 0 for 3 against Carpenter and hadn't gotten the ball out of the infield.

"He was lights out for most of the game," Miles said. "He's definitely not a comfortable at-bat."

The game took an odd twist with two outs in the eighth when Cardinals left fielder Matt Holliday walked off the field holding his right ear. A moth had gotten stuck in his ear, and a Cardinals trainer tried to assist Holliday as he walked to the dugout.

Holliday was taken into a dark room and a light was put to his ear, trying to lure the moth out, Cardinals spokesman Brian Bartow said. When that didn't work, an instrument was used to pry the live moth out of Holliday's ear.

Holliday was not available for comment but appeared to be OK, Bartow said.

"He had a moth fly into his ear, deep into his ear. I don't even know what happened to it," Cardinals manager Tony La Russa said.

The Cardinals took a 1-0 lead into the ninth behind Carpenter, who was 6-0 with a 1.57 ERA against the Dodgers going into the game.

Although Carpenter did not take the loss, he felt it nevertheless.

"It was a tough one, no question," Carpenter said. "Absolutely a tough loss."

Carpenter dominated the Dodgers for eight innings, shutting them out on five hits. He left after hitting Juan Rivera with a pitch to start the ninth.

Lefty reliever Arthur Rhodes struck out Andre Ethier , and La Russa brought in Salas (5-5). Miles tripled to right-center field to tie it.

"I fell behind in the count and I went to my best pitch to the lefties, a changeup," Salas said. "The guy put a good swing on it."

Miles said that he was looking for a changeup. He was also thinking third base all the way.

"You've got to take chance with one out," Miles said. "I knew I was going to go for it. They had to make a good relay to get me."

With Miles on third, La Russa then went to Jason Motte , who got Rod Barajas to hit a sharp grounder. But shortstop Rafael Furcal bobbled the ball briefly allowing Miles to score the go-ahead run.

The blown save was the fifth in 27 tries for Salas.

"I just played the inning," La Russa said. "I watched what happens. You decide as you go along. He hit the first guy and with Ethier up, I figured it was better to go with the left-hander."

Los Angeles manager Don Mattingly was grateful to see Carpenter gone, but would not second-guess the decision to remove him.

"We didn't do much with him, that's for sure," Mattingly said. "I'm sure Tony has his reasons. He knows his ballclub a lot better than I know his ballclub."

Matt Guerrier (4-3) pitched a scoreless eighth to get the win. Javy Guerra pitched the ninth for his 11th save in 12 opportunities.

James Loney had three hits for the Dodgers. Matt Kemp was 0 for 4 and had his 11-game hitting streak snapped.

Los Angeles rookie starter Nathan Eovaldi allowed just a solo home run to Lance Berkman , his 29th, leading off the second inning. Eovaldi lasted five innings and allowed five hits while walking one and striking out two.

NOTES: St. Louis failed to score in the opening frame against the Dodgers, who have allowed just 35 first-inning runs. Los Angeles is on pace to allow 45 first-inning runs, which would be the fewest by a National League team since 1920. The 1975 Dodgers' team holds the record with 49 runs allowed. ... The Dodgers' Eugenio Velez went 0 for 3 and is hitless in 25 at-bats on the year.