St. Louis
(18-11) at Arizona
(14-16)
May 8, 2012
9:30 PM ET, 8:40 PM CT, 7:40 PM MT, 6:40 PM PT
Chase Field, Phoenix, Arizona
TV: FSMW, FSAZ
RADIO: KMOX 1120

Flashchat Link:
http://www.gatewayredbirds.com/forum/chat/flashchat.php
J. Westbrook (3-2, 2.12) I. Kennedy (3-1, 3.23)
Link for entire article:
http://sports.yahoo.com/news/cardinals- ... --mlb.html
Quote:
It's been almost a year since Ian Kennedy was last saddled with a loss at home.

The right-hander hopes to rebound from his first overall regular-season defeat since August when he tries to help the Diamondbacks avoid a fourth straight loss Tuesday night against the visiting St. Louis Cardinals.

Kennedy (3-1, 3.23 ERA) was 9-0 with a 2.34 ERA in his previous 12 regular-season starts before a 2-1 loss at Washington on Thursday. He allowed two runs and four hits over seven innings but suffered his first regular-season defeat since Aug. 18 at Philadelphia.
Quote:
He was hardly solid while giving up nine runs in three innings of a 15-5 home loss to the Cardinals on April 13, 2011. Kennedy, however, allowed three in six innings of a 7-6 victory at Busch Stadium on July 8.

He'll look to help Arizona (14-16) get back on track after Joe Saunders allowed seven runs and three of St. Louis' five homers in 3 1-3 innings of Monday's 9-6 loss. The Diamondbacks rallied from a 7-0 deficit to score six times in the sixth after Lance Lynn shut them out over five and ultimately improved to 6-0.

"We'll come back (Tuesday)," manager Kirk Gibson said. "We'll play hard, but if we want to beat this team we have to play better."

Rafael Furcal opened the game with his second homer and added two more hits, while Carlos Beltran hit his eighth home run and Matt Holliday his sixth as the Cardinals (18-11) won their second straight after a season-high three-game skid.

St. Louis, which has scored in the first inning of seven straight games, has totaled 17 runs in the last two after being held to nine in the previous three.

"We have a lot of talent on this team and we are capable of doing that," said Allen Craig, who has homered in back-to-back games.

Holliday is 10 for 27 (.370) with two homers and seven RBIs in seven games this month. Craig has two home runs with nine RBIs while batting .421 (8 for 19) in five since coming off the disabled list after recovering from offseason knee surgery.

Scheduled starter Jake Westbrook (3-2, 2.12) yielded four earned runs in his first four starts before he gave up four and nine hits in 6 1-3 innings of a 6-3 home loss to Pittsburgh on Thursday.

The right-hander is 3-0 with a 0.86 ERA in starts against teams other than the Pirates this season.

"I don't know. I can't explain it," Westbrook told the Cardinals' official website.

He gave up five runs - two earned - and nine hits over 5 1-3 innings while beating Kennedy last April at Chase Field, his only start against the Diamondbacks since 2005.
The Series:
St. Louis leads Season series 1-0
May 7, 2012-St. Louis 9, Arizona 6
May 8, 2012-STL (Westbrook) @ ARI (Kennedy)-8:40 PM CDT
May 9, 2012-STL (Lohse) @ ARI (Miley)-8:40 PM CDT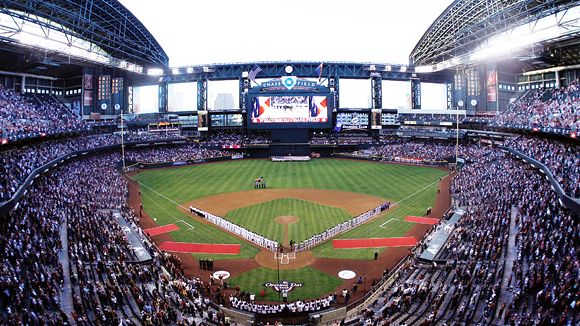 Chase Field,401 E. Jefferson Street, Phoenix, Arizona 85004
Baseball Reference 2012 Cardinals Statistics
2012 Current MLB Standings
2012 Current MLB Wild Card Standings
2012 Current MLB vs. Division Standings
2012 Current MLB vs. Expanded Standings
Last Game:
St. Louis 9, Arizona 6
WP: L. Lynn (6-0) S: J. Motte (5)
LP: J. Saunders (2-2)

HR: STL - R. Furcal (2), C. Beltran (8), M. Holliday (6), A. Craig (2), D. Freese (7), ARI - C. Ransom (4)
Link for entire article:
http://sports.yahoo.com/news/lynn-goes- ... --mlb.html

Lynn goes to 6-0, 5 Cardinals homer in 9-6 victory
By BOB BAUM | The Associated Press
Quote:
PHOENIX (AP) Lance Lynn wasn't at his best Monday night - just good enough for five scoreless innings and another victory.

The big, young St. Louis right-hander gave up three hits to become the majors' first six-game winner and the Cardinals held on for a 9-6 victory over the Arizona Diamondbacks.

Rafael Furcal hit the 30th leadoff home run of his career for St. Louis, the first of five homers for the Cardinals on the night. Carlos Beltran and Matt Holliday hit consecutive homers to open the third off Joe Saunders (2-2). Allen Craig and David Freese homered to start the seventh after Arizona had scored six times in the sixth to cut the lead to 7-6.

''It was nice for them to come out swinging the bats right from the top, a pretty good display of some power,'' manager Mike Matheney said. ''Then obviously the ones we got later were a lot more valuable than what we thought they would be.''

Lynn (6-0), the first St. Louis pitcher to start the season with six wins since Bob Tewksbury in 1994, left with a 7-0 lead. Cody Ransom hit a two-run homer in the Diamondbacks' rally.

''We're winning games while I'm on the mound,'' Lynn said. ''That's all that matters.''

Jason Motte gave up a pair of singles in the ninth but no runs for his fifth save in six tries.

Lynn struck out seven and walked four. The 6-foot-5, 250-pound 24-year-old has allowed six earned runs in six starts. It was his shortest outing of the season, and he acknowledged he had problems with his command.

''Tonight was a struggle,'' Lynn said. ''You know you're not going to have your best stuff every time out. Tonight I was able to battle through it.''
Quote:
Furcal put St. Louis ahead to stay with a leadoff shot an estimated 441 feet onto the porch in left-center, just above the 413-foot sign. After two outs, Allen Craig singled, then scored on Freese's double into the left field corner. The Cardinals made it 3-0 when Yadier Molina singled to right field. Justin Upton's throw to the plate was high and Freese slid under catcher Miguel Montero's tag.

Beltran's eighth home run, leading off the third, followed by Holliday's sixth homer of the season, put the Cardinals up 5-0.

They made it 7-0, with help of an unearned run, in the fourth. Tyler Green singled, then Montero threw the ball away on Lynn's sacrifice bunt try. Furcal followed with an RBI single, then Holliday walked to load the bases. Reliever Brad Ziegler walked home the seventh run on four pitches.

Arizona broke through against reliever J.C. Romero, who faced five batters without an out in the sixth inning. Montero led off with a single, then Ransom hit his fourth home run of the season, a 452-foot shot into the left field seats. Lyle Overbay walked and Aaron Hill singled, then both scored on Ryan Roberts' double. A.J. Pollack reached on an infield single, then Gerardo Parra's bunt brought Roberts home to make it 7-5 with no outs.

Fernando Salas relieved Romero and retired the next two batters, but Montero's RBI singled up the middle cut the lead to 7-6.

Reliever Bryan Shaw gave up home runs to Craig and Freese to start the seventh as St. Louis stretched it to a three-run game.
Quote:
NOTES: St. Louis batters have hit consecutive home runs four times this season. ... The Cardinals' Lance Berkman, on the DL with a left calf strain, says he expects to be activated on Friday. ... The Diamondbacks were without first base coach Eric Young because of the death of his father. Bullpen coach Glen Sherlock filled in at first base. ... Upton batted second in the lineup for the first time since Sept. 14, 2010. He was 0 for 3 with two strikeouts before being lifted in a double switch after the fifth. ... The Cardinals have scored in the first inning in each of their last seven games. ... The Diamondbacks send ace Ian Kennedy (3-1, 3.23) to the mound Tuesday night against the Cardinals' Jake Westbrook (3-2, 2.12). ... Arizona's franchise record for coming from behind to win is six runs, accomplished six times. ... The final seconds of the Phoenix Coyotes' series-clinching NHL playoff victory over Nashville were shown on the Chase Field big screen.