Milwaukee
(9-11) at St. Louis
(13-7)
April 28, 2012
1:05 PM ET, 12:05 PM CT, 11:05 AM MT, 10:05 AM PT
Busch Stadium, St. Louis, Missouri
TV: FOX
RADIO: KMOX 1120

. Estrada (0-0, 2.45) K. Lohse (3-0, 0.99)
Link for entire article:
http://sports.yahoo.com/news/brewers-ca ... --mlb.html
Quote:
A matchup with the Milwaukee Brewers provided the St. Louis Cardinals just what they needed to break out of a slump.

Judging by how he's pitched so far this season, Kyle Lohse might not require too much support during Saturday's game at Busch Stadium.

St. Louis hit .211 with 21 runs scored during a 3-4 stretch before returning home Friday to face Milwaukee. The Cardinals (13-7) used an eight-run third to roll to a 13-1 win in the opener of a three-game series.

Matt Holliday and Jon Jay combined for six of their team's 15 hits, one shy of matching a season high. Jay, who returned to the lineup for the first time since April 21, and Skip Schumaker drove in three runs apiece.

St. Louis scored 20 runs while winning two of three in Milwaukee from April 6-8, but were shut out during the middle game of that set.

"We just go out there and have good at-bats," Jay said. "You just try and keep the line moving and that's why we've been able to do some things."

The Cardinals will try to keep things going in support of Lohse (3-0, 0.99 ERA), who has allowed one run or fewer in each of his four outings this season. The right-hander gave up one run over seven innings Sunday during a 5-1 victory in Pittsburgh.

"Man he's unreal," third baseman David Freese said. "I've heard other guys say that when he hits his spots, he's one of the toughest in the game to string some hits together. And he's showing it, for sure."

The Cardinals are 13-4 in their last 17 games against the Brewers (9-11), including a six-game victory in last year's NL championship series. Lohse, though, was the loser in Game 4 and is 1-5 with a 4.28 ERA in his last seven regular-season starts versus Milwaukee.

He earned that lone win by tossing six scoreless innings at Busch Stadium on Sept. 6.
The Series:
Cardinals lead season Series 3-1
April 27, 2012-St. Louis 13, Milwaukee 1
April 28, 2012-MIL (Estrada) @ STL (Lohse)-12:05 PM CDT
April 29, 2012-MIL (Greinke) @ STL (Garcia)-1:15 PM CDT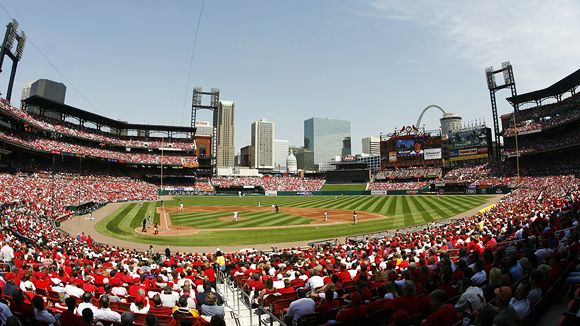 Baseball Reference 2012 Cardinals Statistics
2012 Current MLB Standings
2012 Current MLB Wild Card Standings
2012 Current MLB vs. Division Standings
2012 Current MLB vs. Expanded Standings
Last Game:
St. Louis 13, Milwaukee 1
WP: J. Westbrook (3-1)
LP: Y. Gallardo (1-2)
Link for full article: http:http://sports.yahoo.com/news/cardinals-score-8-3rd-13-030131964--mlb.html

Cardinals score 8 in 3rd in 13-1 win over Brewers
The Associated Pres
Quote:
ST. LOUIS (AP) The St. Louis hitters gave starting pitcher Jake Westbrook plenty of offensive support this time around.

The Cardinals set season highs for runs in an inning and in a game Friday night in rolling to a 13-1 win over the Milwaukee Brewers.

St. Louis scored eight runs in the third inning to win for the eighth time in its last 12. Milwaukee has lost three of five.

Westbrook (3-1) gave up seven hits, struck out five and did not walk a batter. He has allowed two earned runs or less in all four of his starts this season.

Westbrook, who lowered his ERA to 1.30, was not given much help in a 2-0 loss at Pittsburgh on Saturday. The Cardinals managed just five hits in being shutout for the second time this season. Westbrook gave up two runs on seven hits but suffered his first loss of the season.

The St. Louis hitters made up for that goose-egg in a big way Friday.

''The offense was huge for us, the runs helped a lot,'' Westbrook said. ''I was able to throw strikes, get ahead of guys, keep the pitch count down and get deep in the game.''

Jon Jay had three hits and drove in three runs to pace a 15-hit attack. Skip Schumaker added two hits and three RBIs, and Matt Holliday had three hits and knocked in a pair.

Jay and Matt Carpenter drove in two runs each in the third as the Cardinals sent 12 batters to the plate. They chased Milwaukee starter Yovani Gallardo, who gave up eight earned runs in two innings. Gallardo (1-2) lost for the ninth time in 10 regular-season starts against St. Louis. He has a 7.05 ERA in 13 starts against the Cardinals and has given up eight earned runs twice.

Carlos Beltran and David Freese drove in Jay and Holliday to start the eight-run outburst. Yadier Molina drew a walk and Carpenter ripped a 3-2 pitch off the center-field wall to push the lead to 6-1. Schumaker followed with a run-scoring hit and Jay added a two-run single. Holliday capped off the frame with a run-scoring single to right.

''We just go out there and have good at-bats,'' Jay said. ''You just try and keep the line moving and that's why we've been able to do some things.''

The eight-run outburst seemed to energize Westbrook. He allowed just three hits over four innings following the explosion.

St. Louis last scored eight runs in the fifth inning of a 13-5 win over Chicago on July 30, 2011.

Schumaker, who has five hits in his last 12 at-bats, was happy to give Westbrook the necessary support.

''Luckily we gave him a little cushion,'' Schumaker said. ''It seems like we're getting seven innings out of him every single time. He's on an incredible run. Hopefully it keeps going.''

St. Louis pounded out 11 hits over the first three innings on the way to a 10-1 lead.

''All the way through the lineup guys really swung the bats well,'' St. Louis manager Mike Matheny said. ''It was just a good offensive day. It was fun to watch.''
Quote:
NOTES: Milwaukee had given up the first run in its previous eight games before scoring in the top of the first Friday. ... Molina will be presented with his fourth consecutive Gold Glove award prior to Saturday's game. ... Kyle Lohse (3-0, 0.99 ERA) will face Milwaukee's Marco Estrada (0-0, 2.45) in the second game of the three-game set on Saturday. ... The Cardinals, who began a six-game homestand Friday, played 13 of their first 19 games on the road. ... Carpenter leads the Cardinals with 10 RBI at home. ... Ramirez has hit safely in his last five games.