Pittsburgh
(10-13) at St. Louis
(15-8)
Flashchat Link:
http://www.gatewayredbirds.com/forum/chat/flashchat.php
May 2, 2012
8:15 PM ET, 7:15 PM CT, 6:15 PM MT, 5:15 PM PT
Busch Stadium, St. Louis, Missouri
TV: ROOT, FSMW
RADIO: KMOX 1120

A. Burnett (1-1, 1.38) L. Lynn (4-0, 1.33)
Link for entire article:
http://sports.yahoo.com/news/pirates-ca ... --mlb.html
Quote:
Lance Lynn was supposed to be in the St. Louis Cardinals' bullpen when the season started, but instead he's been a dominant cog in one of the majors' best rotations.

The Pittsburgh Pirates have already seen the evidence.

After four impressive starts in April - including one in Pittsburgh - Lynn can become the first NL pitcher with five wins Wednesday night as the Cardinals continue this three-game series against A.J. Burnett and the Pirates.

While no one in the St. Louis organization would call Chris Carpenter's shoulder injury a good thing, Lynn (4-0, 1.33 ERA) has certainly provided the Cardinals (15-8) with a silver lining. He became baseball's first four-game winner last Wednesday at Wrigley Field, allowing a single run for the fourth straight start while striking out seven over a career-high eight innings in a 5-1 victory.

"He did great," Carlos Beltran told the Cardinals' official website. "He's been pitching great for us. Throwing pitches for strikes, getting ahead of hitters. And when you're capable of doing that, then you have other pitches to play around."

Lynn retired the last 11 Cubs he faced and recorded 15 of his 24 outs on ground balls after having only a 51.2 grounder percentage in his first three starts.

To manager Mike Matheny, Lynn is adjusting to the clubs he's facing - last week was his second start against Chicago in 12 days - before they can adjust to him.

"I think (teams) are going to try and continue to do different things as they watch and study," Matheny told the league's official website. "But it's hard to really put a real good plan together when you're making good quality pitches."

He'll be facing the Pirates (10-13) for a second time as well, and Pittsburgh can certainly stand to make some adjustments. The right-hander gave up a leadoff inside-the-park homer to Alex Presley in the first inning April 20, but surrendered only three more singles over seven innings in a 4-1 victory.
Quote:
Beltran is in a 3-for-32, 13-strikeout slump that began when he went 0 for 3 against Burnett.
The Series:
Cardinals lead season Series 3-1
May 1, 2012-St. Louis 10, Pittsburgh 7
May 2, 2012-PIT (Burnett) @ STL (Lynn)-7:15 PM CDT
May 3, 2012-PIT (Bedard) @ STL (Westbrook)-12:45 PM CDT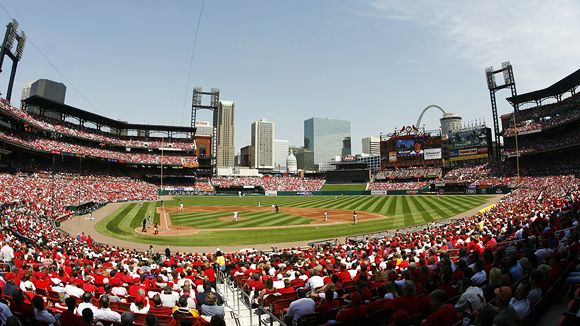 Baseball Reference 2012 Cardinals Statistics
2012 Current MLB Standings
2012 Current MLB Wild Card Standings
2012 Current MLB vs. Division Standings
2012 Current MLB vs. Expanded Standings
Last Game:
St. Louis 10, Pittsburgh 7
WP: A. Wainwright (1-3) S: J. Motte (4)
LP: C. Morton (1-2)

HR: PIT - J. Tabata (1), P. Alvarez (6), STL - R. Furcal (1), M. Holliday (5), D. Freese (6)
Link for entire article:
http://sports.yahoo.com/news/wainwright ... --mlb.html
Wainwright wins 1st, Cardinals beat Pirates 10-7
By R.B. FALLSTROM | The Associated Press
Quote:
ST. LOUIS (AP) Adam Wainwright finally made it back into the win column. It didn't hurt that the St. Louis Cardinals finally scored some runs for the right-hander.

Wainwright worked seven solid innings for his first victory since September 2010, and the Cardinals got big nights at the plate from David Freese and Matt Holliday to beat the Pittsburgh Pirates 10-7 on Tuesday.

''Scoring runs for Waino was what we wanted to do tonight,'' Freese said. ''Coming off Tommy John (surgery) and not getting run support the first month, it's frustrating for him and for us.

''We're rooting for all our pitchers, but especially Waino. The way he works, he deserves all the success he's getting.''

Freese's sixth home run and third in five games was a tiebreaking, three-run shot off Charlie Morton (1-2) in the fifth. Holliday homered in the sixth off Jared Hughes to cap a three-hit night with two RBIs.

Allen Craig had two hits and an RBI in his season debut after rehabbing from knee surgery performed last fall shortly after he belted three homers in the World Series. Rafael Furcal had two hits, including his first homer, a two-run shot off Tony Watson in the seventh that made it 10-4.

''He's a big RBI guy,'' manager Mike Matheny said of Craig. ''Some guys just have that knack.''

Wainwright (1-3) was hurt only by the long ball in his fifth start of the season, allowing five hits but giving up two-run homers to Jose Tabata in the third and Pedro Alvarez in the seventh. The right-hander totaled 39 wins from 2009-10 but missed last season following reconstructive elbow surgery, and became the last member of the rotation to get a win this year.

His previous victory was his 20th of the 2010 season.

''I think if you look at 90 percent of my game today, it was pretty good,'' Wainwright said. ''I feel like each time I'm getting a little sharper.

''I'm more concerned with the quality of my pitches and execution throughout the game, and I feel like I'm on the right track.''

In his first four starts, the Cardinals didn't score while Wainwright was in the game. This time, he left with a 7-4 cushion. Wainwright's ERA remains unsightly at 6.75, the highest at any point during his career as a starter, but he's made strides the last two outings, holding the Cubs to one run in six innings on April 24.
Quote:
NOTES: Lance Lynn (4-0, 1.33 ERA), off to a great start as the stand-in for injured ace Chris Carpenter, opposes A.J. Burnett (1-1, 1.38) in the second game of the three-game series Wednesday. ... Slow-footed Cardinals C Yadier Molina is 4 for 4 in steals. He caught Morton so unaware in the fourth there was no throw and was on the front end of a double steal in the seventh that prompted a wild throw from catcher Rod Barajas, allowing a run to score. ... Morton did not miss injured Cardinals 1B Lance Berkman, who is 8 for 14 with two homers and six RBIs against him. ... Jon Jay and Molina each had two hits, and both have nine hits in the first four games of a six-game homestand.