Los Angeles
(53-44) at St. Louis
(50-46)
July 24, 2012
8:15 PM ET, 7:15 PM CT, 6:15 PM MT, 5:15 PM PT
Busch Stadium, St. Louis, Missouri
TV: KCAL, FSMW, MLB Network
RADIO: KMOX 1120

C. Kershaw (7-5, 2.74) A. Wainwright (7-10, 4.42)
http://sports.yahoo.com/news/dodgers-ca ... --mlb.html
Quote:
The Los Angeles Dodgers are surging, and that's rather common against the St. Louis Cardinals.

Handing the ball to Clayton Kershaw may keep the Dodgers rolling.

Los Angeles looks to match a season high with its sixth straight victory and extend its win streak against the Cardinals to nine on Tuesday night at Busch Stadium.

The Dodgers (53-44) have rebounded from a four-game skid with five consecutive wins and remain 1 1/2 games behind NL West-leading San Francisco. They're looking to close that gap before visiting their biggest rivals for a three-game set this weekend.

Chad Billingsley pitched Los Angeles to a season high-tying fourth straight road win in Monday's series-opening 5-3 victory. The Dodgers have won eight straight against St. Louis for the second time since moving to Los Angeles and first since 1975-76.

A surprising contributor lately has been Luis Cruz, who hit a three-run homer Monday and has driven in eight runs in the past six games. Cruz, who was recalled earlier this month to replace injured shortstop Dee Gordon, has 14 hits this season - eight for extra bases.
Quote:
The reigning NL Cy Young Award winner has thrown 15 scoreless innings while winning his last two starts versus St. Louis (50-46), including a six-hitter in a 6-0 home victory May 19.

He was impressive for the second consecutive start Wednesday, yielding one run with seven strikeouts over eight innings of a 5-3, 12-inning win over Philadelphia.

Dodgers star Matt Kemp is hitting .441 with three homers and 11 RBIs in his last eight matchups versus St. Louis, but he's 2 for 14 against Adam Wainwright, Tuesday's scheduled starter.

Wainwright (7-10, 4.42) will try to get St. Louis back on track after it had a three-game win streak snapped Monday.

The right-hander has lost back-to-back starts with a 3.38 ERA, but he can't be blamed for Wednesday's 4-3 defeat at Milwaukee. He matched his season high with nine strikeouts and allowed four runs in seven innings, but only one was earned since the defense made three errors.

"You can't really control what goes on behind you or anything else," Wainwright said. "You just have to make your next pitch and trust your defense."

Wainwright is 2-1 with a 0.70 ERA in five games - three starts - at home against the Dodgers, winning the last two with 14 scoreless innings.

Carlos Beltran homered for the second game in a row Monday. His 22 home runs match his total from last year with the New York Mets and San Francisco, while his 71 RBIs tie Arizona's Jason Kubel for the NL lead.

Beltran is 3 for 16 against Kershaw.
The Series:
Los Angeles leads season series 4-0
July 23, 2012-Los Angeles 5, St. Louis 3
July 24, 2012-LAD (Kershaw) @ STL (Wainwright) -7:15 PM CDT
July 25, 2012-LAD (Harang) @ STL (Lohse)-7:05 PM CDT
July 26, 2012-LAD (Capuano) @ STL (Westbrook)-12:45 PM CDT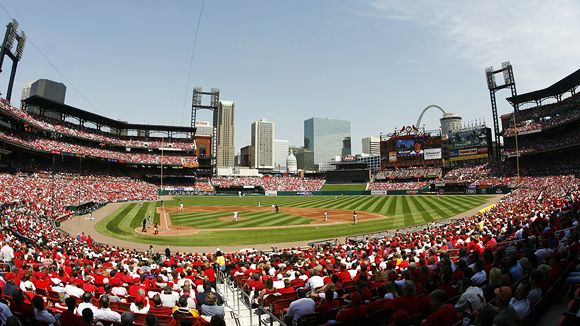 Baseball Reference 2012 Cardinals Statistics
2012 Current MLB Standings
2012 Current MLB Wild Card Standings
2012 Current MLB vs. Division Standings
2012 Current MLB vs. Expanded Standings
Last Game:
Los Angeles 5, St. Louis 3
WP: C. Billingsley (5-9) S: K. Jansen (19)
LP: J. Kelly (1-3)

HR: LAD - L. Cruz (2), STL - C. Beltran (22)
http://sports.yahoo.com/news/billingsle ... --mlb.html

Billingsley strong, Dodgers beat Cardinals 5-3
By R.B. FALLSTROM (AP Sports Writer) | The Associated Press
Quote:
ST. LOUIS (AP) -- Chad Billingsley strode to the mound feeling like a winner.

Even though the Los Angeles Dodgers' right-hander was stuck on a five-start losing streak for a couple extra weeks while sidelined with elbow inflammation, he said there was no stewing before taming the St. Louis Cardinals for six innings in a 5-3 victory Monday night.

''I don't even think about that,'' Billingsley said. ''Your mindset is always getting ready for the next start, the next time you're out there.''

Billingsley (5-9) didn't seem to mind the 101-degree heat, changing a soaked jersey once to cope. He struggled with fastball control but was happy with all of his off-speed stuff.

''I like throwing in this,'' Billingsley said. ''I mean, you stay loose and you get a good sweat going. Good old St. Louis, that humidity.''

Luis Cruz powered the Dodgers' fifth straight victory with a three-run homer in the second. Cruz, recalled July 2 to replaced injured shortstop Dee Gordon, has two career homers and 12 RBIs. Eight of his 14 hits are for extra bases.

The drive estimated at 372 feet barely cleared the left-field wall - the ball conked left fielder Matt Holliday on the rebound - to give the Dodgers the early jump in their eighth straight win over St. Louis dating to April 17, 2011.
Quote:
Rookie Joe Kelly (1-3) said he gave Cruz a fat pitch to hit.

''Terrible slider, especially after fastball up, fastball up,'' Kelly said. ''He put a good swing on it. It was just a cement mixer.''

Kenley Jansen struck out two in a perfect ninth for his 19th save in 24 chances. The Dodgers also won eight in a row against St. Louis from 1975-76, their best streak in the series since moving to Los Angeles.

Carlos Beltran homered for the second straight game with a two-run shot in the eighth for the Cardinals, hitting his 22nd of the year off Ronald Belisario. But St. Louis was 1 for 8 with runners in scoring position, failing to build on a three-game sweep of the Cubs in which it outscored Chicago 23-1.
Quote:
Kelly allowed two earned runs on four hits in six innings, and had a tougher day from a physical standpoint. He contributed to Ellis' double-play ball the second at-bat of the game by deflecting a high chopper with the ring finger of his pitching hand, prompting a visit from team trainers and a brief delay to make sure he could still pitch.

''I felt like I got stung by a bee,'' Kelly said. ''Just numb for a little bit.''

Kelly got a second visit from the trainer after beating out an infield hit in the fifth, then stumbling over the bag and sprawling to the ground. Earlier in the at-bat, Kelly barely missed a homer on a ball that replays indicated was less than a foot outside the foul pole in left.
Quote:
The Dodgers trailed for the first time in four games during a 10-game trip after Jon Jay doubled for his fifth consecutive hit with one out in the first and scored on Lance Berkman's two-out single. Jay also singled to start the eighth and scored on Beltran's homer, which tied him with the Diamondbacks' Jason Kubel for the NL RBI lead with 71 apiece.

NOTES: Cardinals 3B David Freese, who is 0 for 6 with six strikeouts against Billingsley, was not in the lineup. ... The Dodgers have 14 homers in the last 18 games. ... Kelly has two hits, both infield singles. He worked Billingsley for a 10-pitch at-bat but grounded out in the second. ... Holliday doubled and walked and has an extra-base hit in four straight games. In his last 16 home games he's batting .491 (28 for 57). ... Jay had his first multihit game since May 2.