St. Louis
(27-22) at Atlanta
(26-24)
May 29, 2012
7:10 PM ET, 6:10 PM CT, 5:10 PM MT, 4:10 PM PT
Turner Field, Atlanta, Georgia
TV: FSMW, SPSO
RADIO: KMOX 1120

J. Westbrook (4-3, 3.37) R. Delgado (2-5, 4.53)
http://sports.yahoo.com/news/cardinals- ... --mlb.html
Quote:
Short-handed offensively, the sinking Atlanta Braves certainly can't afford to be giving up a lot of runs because of a struggling rotation.

The Braves will try to avoid a ninth straight loss Tuesday night when they continue their series against the visiting St. Louis Cardinals.

Atlanta dropped its eighth straight Monday, falling 8-2 to St. Louis - extending its worst single-season skid since losing nine in a row April 21-29, 2010.

The Braves (26-24) have averaged 2.5 runs and hit .178 during their current funk, striking out 10 or more times in three straight games. It hasn't helped that Brian McCann recently missed time with an illness, while Chipper Jones (leg) and Freddie Freeman (vision) are both out.
Quote:
Randall Delgado (2-5, 4.53 ERA) has been going through an individual drought for a while. After winning his first two starts of 2012, he's winless in his last seven, yielding eight walks and eight runs over 9 1-3 innings in the last two.

He's walked at least three in each of his last four outings.

The right-hander takes the ball Tuesday, and he may want to be especially careful with Rafael Furcal. The shortstop hit one of two home runs against Hanson on Monday, finishing with three hits to bring his batting average up to .340.

St. Louis (27-22) has won back-to-back games, scoring eight runs in each, after dropping three straight. Monday's win snapped a three-game skid against the Braves, and the Cardinals have now won 12 of 18 in the series.

They've lost three straight times with Jake Westbrook (4-3, 3.38) on the mound, with opponents hitting .371 against Tuesday's scheduled starter in that stretch.

Westbrook gave up a season-high six runs in a season-low 3 2-3 innings of St. Louis' 10-9 loss to Philadelphia on Thursday.

"I was very erratic early," he said. "Even when I was in the zone, it was one of those type things where they were able to get base hits. It snowballed early on me."

The right-hander is 1-1 with a 4.03 ERA in four starts against the Braves. Eric Hinske, who is 2 for 18 with eight strikeouts in his last five games, is 5 for 14 with two doubles against Westbrook.

It's unclear if the Cardinals will have David Freese out of the lineup for a second straight day as he deals with a wrist problem.
The Series:
Atlanta leads season series 3-1
May 28, 2012-St. Louis 8, Atlanta 2
May 29, 2012-STL (Westbrook) @ ATL (Delgado) 6:10 PM CDT
May 30, 2012-STL (Lohse) @ ATL (Hudson) 6:10 PM CDT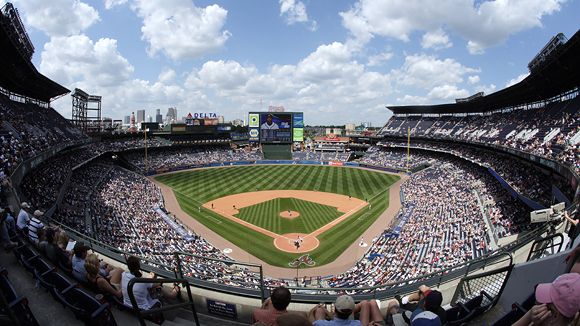 Turner Field, 755 Hank Aaron Drive., Atlanta, Georgia 30315
Baseball Reference 2012 Cardinals Statistics
2012 Current MLB Standings
2012 Current MLB Wild Card Standings
2012 Current MLB vs. Division Standings
2012 Current MLB vs. Expanded Standings
Last Game:
St. Louis 8, Atlanta 2
WP: L. Lynn (8-1)
LP: T. Hanson (5-4)

HR: STL - R. Furcal (4), D. Descalso (2)
http://sports.yahoo.com/news/descalso-h ... --mlb.html
Descalso hits HR, Cards beat reeling Braves, 8-2
By CHARLES ODUM | The Associated Press
Quote:
ATLANTA (AP) Lance Lynn joined Philadelphia's Cole Hamels as the major leagues' first eight-game winners, and the St. Louis Cardinals' extended the Atlanta Braves' longest losing streak in two years to eight games with an 8-2 victory Monday.

Lynn (8-1) allowed two runs and five hits in seven innings. While he was dominating the Braves, Hamels pitched the Phillies to an 8-4 win at the Mets.

Atlanta is on its worst skid since the Braves lost nine in a row from April 21-29, 2010. The Braves have given up seven runs or more in four straight games.

Daniel Descalso hit a two-run homer as a fill-in starter at third base for David Freese, who was given a day off with a mild sprain of his right hand.

Rafael Furcal had three hits, including a homer, and Matt Adams had three hits with three RBIs for St. Louis.

Marc Rzepczynski and Eduardo Sanchez followed Lynn with hitless relief, completing a five-hitter.
Quote:
Matt Holliday singled and scored on Brian McCann's passed ball. After Carlos Beltran was caught in a rundown between third and home when he broke for the plate on a pitch, Yadier Molina singled in a run and Descalso followed with his second home run this season.

Furcal's home run off hanson and Adams' RBI single off Kris Medlen made it 6-0 in the fourth.

Juan Francisco had a two-run single in the bottom half. Adams added a two-run double against Medlen in the sixth.
Quote:
NOTES: Cardinals manager Mike Matheny said Freese could play but added he wanted to ''nip it in the bud'' so Freese's hand will heal. ... Molina started after leaving Sunday's game early due to dehydration. ... Matheny said Cardinals INF-OF Allen Craig (left hamstring strain) is expected to be ready to come off the DL on Friday. ... McCann (illness) was 0-for-4 in his first start since May 21. ... Cardinals RHP Jake Westbrook will face RHP Randall Delgado on Tuesday night.