Miami
(41-43) at St. Louis
(45-40)
July 8, 2012
2:15 PM ET, 1:15 PM CT, 12:15 PM MT, 11:15 AM PT
Busch Stadium, St. Louis, Missouri
TV: FSFL, FSMW
RADIO: KMOX 1120

A. Sanchez (4-6, 4.19) J. Kelly (1-1, 3.29)
http://sports.yahoo.com/news/marlins-ca ... --mlb.html
Quote:
Giancarlo Stanton was set to play in next week's All-Star game and participate in the home run derby. Instead, he'll be recovering from arthroscopic surgery on his right knee.

After learning Stanton will miss at least a month, the Miami Marlins will try to end the first half of the season on a positive note Sunday in the finale of their three-game series against the St. Louis Cardinals.

Stanton returned to Miami's lineup Saturday after missing four games, but the return was short-lived. He exited after two innings due to continued problems with his right knee.

Stanton, who leads Miami with 19 homers and 50 RBIs, will undergo surgery Sunday and could miss about a month, according to manager Ozzie Guillen.

"He's a big bat," Guillen said. "This is our power hitter, the RBI guy. I think everybody out there has got to step it up a notch and try to cover the space."
Quote:
It hasn't helped that they've faced strong pitching from St. Louis (45-40), which has won five of seven. The Cardinals rotation is 4-2 with a 1.85 ERA over its last six games, with each starter going at least six innings.

Kyle Lohse tossed seven innings to earn the win Saturday, with Tony Cruz's two-run triple supporting him.

Joe Kelly (1-1, 3.29 ERA) will get the ball in the Cardinals' final game before the All-Star break.

The rookie right-hander continues to do an admirable job filling in for Jaime Garcia, who has been out a month with a shoulder strain and isn't expected back until August.

Kelly hasn't allowed more than three runs in any of his five starts and has gone six innings in each of the last three.

He surrendered a three-run homer and walked four in a 3-2 loss to Colorado on Tuesday.

"He was not as efficient as he could certainly be, but overall I thought he did a nice job," manager Mike Matheny said. "He kept us in there. He's given us a chance every start. You can't ask for more than that."

Kelly's previous outing came at Miami on June 27, when he gave up two runs and five hits and didn't get a decision in the Cardinals' 5-3 defeat.

Anibal Sanchez (4-6, 4.19) earned the victory in that contest, allowing three runs in seven innings, and will oppose Kelly again Sunday.

Sanchez's last start wasn't nearly as strong, as he gave up six runs and a season-high 11 hits over five innings against Milwaukee on Tuesday, a contest the Marlins lost 13-12 in 10 innings.

Sanchez is 1-3 with a 7.34 ERA in his last six starts, giving up six or more runs three times.

Cardinals slugger Matt Holliday, who extended his hitting streak to 10 games Saturday, is 7 for 14 with two homers and a double off Sanchez. He is batting .444 during his streak
The Series:
St. Louis leads season series 4-2
July 6, 2012-Miami 3, St. Louis 2
July 7, 2012-St. Louis 3, Miami 2
July 8, 2012-MIA (Sanchez) @ STL (Kelly)-1:15 PM CDT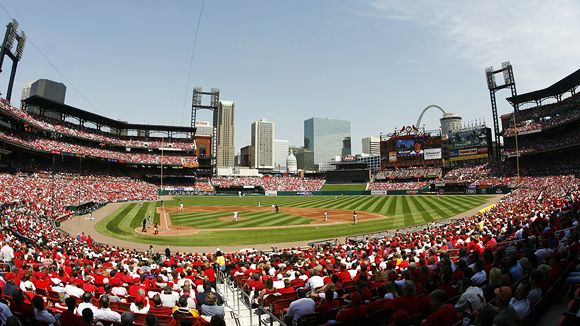 Baseball Reference 2012 Cardinals Statistics
2012 Current MLB Standings
2012 Current MLB Wild Card Standings
2012 Current MLB vs. Division Standings
2012 Current MLB vs. Expanded Standings
Last Game:
St. Louis 3, Miami 2
WP: K. Lohse (9-2) S: J. Motte (20)
LP: C. Zambrano (4-7)

HR: MIA - J. Ruggiano (6)
http://sports.yahoo.com/news/cardinals- ... --mlb.html
Cardinals beat Marlins 3-2 in 106-degree heat
By R.B. FALLSTROM (AP Sports Writer) | The Associated Press
Quote:
ST. LOUIS (AP) -- Kyle Lohse beat the Miami Marlins with seven innings of three-hit ball in 106-degree heat and Tony Cruz hit a go-ahead two-run triple in the St. Louis Cardinals' 3-2 victory on Saturday.

Allen Craig had three hits and Skip Schumaker added an RBI single in the fourth for the Cardinals, who have won five of seven and snapped the Marlins' three-game winning streak.

David Freese was hit by a pitch twice, walked and singled to reach base safely in all four trips.

Justin Ruggiano hit a two-run home run for the Marlins, who missed a chance to climb back to .500. Carlos Zambrano (4-7) lasted just five innings and Giancarlo Stanton lasted just two before leaving with right knee soreness, the injury that had kept him out four straight starts.

Jose Reyes, Hanley Ramirez and Carlos Lee, the top three in the Miami lineup, were a combined 0 for 11 with a walk and are 1 for 22 with two walks the first two games of a three-game set heading into the All-Star break.

Lohse (9-2) is 3-0 with a 2.08 ERA in three starts against Miami, allowing nine hits in 21 2-3 innings, and found his stride after Ruggiano's homer with one out in the third. The Marlins had two base runners the last five innings on a walk and a fielding error by Craig at first that was wiped clean when Reyes was caught flat-footed, getting picked off to end the fifth.

Lohse has won his past three starts overall and has worked seven or more innings six straight times.

Jason Motte allowed a pair of two-out singles in the ninth before getting Donovan Solano to foul out to end it for his 20th save.

Stanton singled to start the second and with one out Ruggiano hit his sixth homer, a drive to left-center to put the Marlins ahead. Ruggiano has 18 hits during a 10-game hitting streak.

The Cardinals stranded four runners the first three innings before getting to Zambrano in the fourth with the first four batters reaching safely. Schumaker hit an RBI single and scored when Cruz followed with an opposite-field drive into the right field corner that scooted past Ruggiano's attempt to cut off the ball.

Cruz has started the past two games in place of All-Star Yadier Molina, who returned to Puerto Rico on bereavement leave following the death of his wife's grandfather.
Quote:
NOTES: Zambrano has hit eight batters, among the league leaders. ... Matt Holliday has hit in 10 straight after singling in the fifth. ... Lohse has allowed a homer in each of his past four starts. ... Carlos Beltran didn't get the ball out of the infield in three at-bats against Zambrano and is 4 for 27 overall against the right-hander. ... The Cardinals are 11-28 when their opponent scores first.