It's that time of year again, the time where we take a look at the Cardinals minor league system and try to rank the prospects as best we can based on a combination of evidence available to us. When I compile a list such as this, I try to evaluate the player based on a combination of ceiling, performance to date, role once in the big leagues, and the chances of reaching that ceiling. I have seen almost every player ranked either on video or, preferably, in person, but often times I have to collaborate with other sources to form a consensus on a player. I readily admit I tend to like players with a certain skill set over others…I tend to value the hit tool greatly, and a player with both an advanced approach and a solid hit tool will tend to be a player I covet over players that have immense power but little contact/approach, or players with elite speed but not enough strength to scare a pitcher into working carefully to them at the big league level.
I tend to all but ignore a player until they reach a full season league, and give even more credence to a player who has proven themselves at the AA level over a player who hasn't. I will downgrade a player who is repeating a level, and I have become a big proponent of age to level metrics as an indicator of future projection. There has been quite a bit of research into the correlation between age and certain performance levels at a certain minor league level and performance at the big league level.
For pitchers, I tend to value velocity and a high groundball percentage. I tend to like pitchers who are in that 6-3 range with long levers and loose, easy mechanics. We're in the infancy stages of researching pitcher mechanics and any correlation to injury, but the research I've seen do not give nearly as much credence to the notion of the "inverted W" leading to injury as you would expect. There is quite a bit more correlation between frame and durability, but even that isn't truly strong enough to be considered statistically relevant. I tend to like athletic pitchers with extremely quick arms. If a pitcher can spin a breaking ball with an extremely fast arm, they can generally be taught to develop a breaking pitch of some sort. If you can find a pitcher with all of those things you generally have a solid pitching prospect. If you find all of the above packaged with a pitcher who has above average command (place ball where you want to inside/outside strike zone) and control (ability to avid walks) you have a monster prospect.
It's important to note that I am not a professional, I do not pretend to be a professional, and do not want to claim to be a professional. I do this for fun, but I do take it seriously. I read reports, I follow professionals who share their thoughts, I form my opinion through observations, and I have been fortunate enough to be around a great college program that routinely has professional scouts in attendance of their scouts who are gracious enough to share tidbits and tips with me. Disagree with as much as you'd like, as I welcome the feedback and will learn from it and grow from it.
With the graduation of some solidly rated prospects to the big club, and an influx of draft picks, you'll see some different names on the list this year, and there are some players who will be rated in different spots depending on the list you review. This isn't an indictment on their talent level, but rather a testament to how many talented players on the back end of the lists that the Cardinals have.
The Cardinals did not have quite the minor league season of 2011, but did have several players take large steps forward and a few draft selections outperform expectations to debut quite highly in the rankings. I do not do nearly as extensive analysis of the other 29 teams' farm systems that I do of the Cardinals so I could not give an accurate ranking of where they stand, but I will say this Cardinals system is one of the elite systems in all of Minor League Baseball, complete with impact level position prospects, starting rotation caliber pitchers, and high level still not mortgage their future. I'm excited to do this list, and I'm excited for the future of these players.
1. Oscar Tavares, OF- 6/19/92, 6-2, 180.
Season Overview: Oscar Tavares may never forget the start to his year. Thanks to the quirks of Spring Training baseball, where players wear the same numbers and there are several younger players who aren't well-known, Taveras earned a new nickname in "Minor League Guy."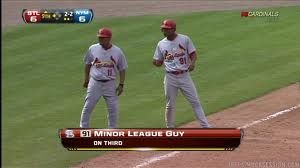 That was probably the lowlight of the year for Tavares, as he went on to make all his supporters look very great. Well, we have a new #1 this year but the good news is that someone took the spot rather than the former #1 falling due to performance or injury. Tavares was simply fantastic en route to winning Texas League MVP and making a believer out of nearly every scout in the industry. Tavares debuted in the Texas League as a teenager and went on to mash from start to finish to the tune of a 161 wRC+ and a .415 wOBA. Anything above a .400 wOBA is fantastic, as wOBA uses linear weights on certain batting events for a metric scaled to OBP. An average hitter is around .340, a great hitter is .400, and a poor hitter under .300. Oscar followed up his breakout season at High-A by posting a slightly lower walk rate of 7.9% (down from 9.2%), but improving his K rate to a phenomenal 10.5% (down from 15.0%) and an ISO of .252 (up from .198). His final triple slash metrics were .321/.380/.572 built on a perfectly sustainable .323 BABIP.
Tools: Talk of Tavares typically revolves around his bat, which is both fantastically coordinated and violently explosive. Tavares physique does not have the look of a typical slugger, but Tavares generates bat speed with lightning quick wrists and elite hand-eye coordination coupled with violence and extension through the zone. Last year I wrote this statement:
Quote:
Taveras profiles as a player who will handle the bat well, move runners, hit doubles, play decent defense, and run the bases hard..300/.360/.440 RF'ers with solid defense are very valuable players, and I think his chances of actualization to the big leagues is higher than most A ball players. If his power comes along further than I believe, all of a sudden, you have a superstar. Health is a key for Taveras.
Well, the power has come along further than I expected, partly because of my conservative nature on prospects before they do it at AA, and partly because it generally takes around 500 plate appearances before ISO can be considered statistically relevant and Tavares has had trouble getting that many plate appearances in a season due to an inability to stay healthy. Tavares was expected to have his torque heavy swing exposed by more advanced pitchers, but that did not happen, prompting talent evaluator Jason Parks to write the following:
Quote:
Taveras's brand of violence is calculated, as he wields his weapon with a controlled fury; to the eye, his swing looks haphazard and aggressive to a fault, but his elite hand can barrel balls to all fields from all hands and has improved his pitch recognition skills, leaving him with an offensive skill set that has few weaknesses. The hit tool receives sevens and eights in reports, and some scouts have even put sevens on his future power, a tool that will continue to mature.
I've come around on the power to the point I feel it can be at least a 65 and if he translates his batting practice prowess over to games, it could even be a 70. For comparison' sake, Pujols had an 80 hit and 70 power at his peak. Now, I'm not saying he's going to be Pujols, but wanting to give context as to how amazing some of the grades others are giving to Tavares' offensive skill set. I'm comfortable putting a 70 hit and 65 power on Tavares. His range is merely average, and his arm barely average, so his bat is what will carry him. He's an average runner now, and might even slow to a tick below as he fills out.
What could go wrong: Tavares approach at the plate is not one of patience, and while he has improved his approach to the point where it's no longer a concern, it still bears monitoring. If pitchers exploit his extreme aggression approach at the plate, and swings at pitches outside the zone at the same rate, he could be taken advantage of. He could fill out and slow down to the point that he can't handle RF and would have to be moved to 1B which would drastically reduce his value (this is highly unlikely, but Tavares is so good, this is what I'm looking at for things that could go wrong).
Future: A legitimate star. Studies have shown getting to AA by 19 is usually a harbinger of good things to come. Getting to AA and posting a wRC+ of 150 or more has a lower correlation to future above average big league production, but it is still correlated. Having both age and production in place is reserved for only the best prospects, and that's what we have with Taveras. With Profar in the big leagues, I believe Taveras is the best position prospect in the minor leagues.
[youtube=http://www.youtube.com/watch?v=Qd5z-It4RFc&feature=related][/youtube][youtube=http://www.youtube.com/watch?v=8NyJjSZ76QI][/youtube]
2. Shelby Miller, RHP- 10/10/1990, 6-3, 195.
Season overview: A season of hype and promise started poorly as Miller took to his own to diet and lose weight in an effort to come into the season in better shape. Unfortunately, the lost weight led to a downturn in velocity for Miller, and whispers of a tendency to attack hitters almost primarily with the fastball led to a disappointing first half and even a few reports that Miller might be available via trade. Miller had a 6.17 ERA prior to the All-Star game but with 90 K in 77 innings. Post All-Star break he had a 2.88 ERA with a similar K rate in 59 innings (70 K). The big difference was the HR rate drastically reduced, and Miller regained most of the velocity lost after the weight loss. Miller's K rate, BB rate, BABIP against all were similar levels to previous years, but the HR rate jumping to 1.58/9 was the biggest culprit for the poor results. Oncce Miller regained the velocity, and reportedly started throwing his breaking stuff more, he was promoted to the majors and benefitted from the velocity bump from shorter outings out of the bullpen (1.54 FIP).
Tools: Miller has the perfect pitchers frame in my mind, at 6-3 with long levers, he can generate easy velocity with an athletic motion you can see above. Miller uses his legs well and really rotates his torso to generate as much velocity as possible. His fastball is a plus pitch that can reach the upper 90's, but sits more comfortably in the 92-94 range as a starter. With all his weight and strength, his fastball rates a 70 on the 20-80 scale due to having a little wiggle and plus velocity. For me, the curveball dictates how Miller goes. When it's on, it has hard biting action and is more of a power curveball than a slow loopy curveball. When Miller stays on top of the curveball and keeps the downward action on the pitch, he can throw it for a strike as well as bury it in the dirt on command. This pitch is currently tough to grade, as it fluctuates from a 50-65 pitch. I think it will even out as a 60 pitch consistently at maturity. Miller shows a nice feel for a changeup and is something he'll need to combat lefthanders as a starter in the big leagues. It will most likely never be a plus pitch for Miller, but it should eventually level out as a 50 pitch as he gains consistency. Two plus pitches and one average starter combined with above average command/control generally is a #2-3 starter in the big leagues, and I think Miller will be exactly that in a few years. I've said for years he reminds me of Matt Cain, and I believe most Cardinals fans would love that level of production from Miller.
What could go wrong: With a pitcher? Well, arm injuries for one. Miller has a clean, repeatable delivery with an athletic frame and good size, but he's still a pitcher, and the arm action for a pitcher isn't normal, so an injury is always a worry. Outside of injury, Miller could fail to develop his secondary pitches and hitters will be able to wait for the fastball, resulting in damage to his one plus pitch. If the changeup doesn't come along, left-handed hitters are going to cause him trouble, and if the pitch develops slowly, Miller could even settle into a bullpen role, which would reduce his value.
Future: Miller has a chance to join the Cardinals rotation as soon as next year, and will definitely have a role with the big club in 2013. Miller has always been someone I've liked and thought had star potential, even going so far as proclaiming him the pitcher I wanted in his draft class at our selection. Given the chance to do that decision, the only player I would take over him would be Trout, which speaks more to his talent than any disappointment in Miller. The 22 y/o righty is going to be very good, very soon.
[youtube=http://www.youtube.com/watch?v=Uf8yU1LFX1M][/youtube][youtube=http://www.youtube.com/watch?v=jmJit2zAwU0][/youtube]
3. Carlos Martinez, RHP- 9/21/1991, 6', 175.
Season overview: It's easy to forget how young Carlos Martinez still is, only turning 21 a few weeks ago and reaching AA Springfield after returning from shoulder tendonitis. Martinez had a little trouble with control at high-A Palm Beach, but improved his walk rate and his groundball rate upon his promotion to AA. I'd like to see the K rate come back to match his stuff next year, as it was only 7.32 per 9 at AA leading to a pedestrian 3.84 FIP.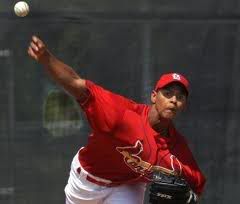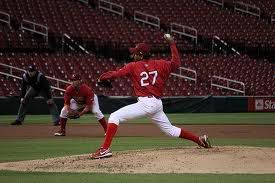 Tools: Martinez is toolsy in the sense that his fastball is a true plus, plus pitch. Generating Bugs Bunny style arm speed, Martinez uses a lightning quick arm to generate upper 90's velocity and even touching triple digits when he gets really amped. I happen to believe Carlos' curveball is a dynamite plus pitch as well. When he keeps his motion tall and keeps his elbow in on his curveball, it is a devastating pitch that breaks down and away with plus velocity. His changeup is not even average and he hasn't displayed a necessarily great feel for the pitch when I've watched him, noticeably slowing his arm speed and motion. His smallish frame is not ideal for a starters workload and Martinez even missed some time with a shoulder injury.
What could go wrong: As discussed, Martinez is a smallish righty with an inconsistent delivery and breaking ball. A shoulder injury is a big worry on a pitcher, much more concerning than an elbow injury would be. Martinez did return after the shoulder injury and pitched without issue. The lack of a third pitch has some scouts worried about a move to the bullpen, while others fear the lack of size will necessitate the move.
Future: When I've seen Martinez I've always wondered why he doesn't miss more bats, as he generates easy velocity that has some life rather than being merely straight. His arm is a truly elite arm that spins a breaking ball very well and should allow Martinez to at least be a dominant reliever in the mold of a Flash Gordon. You have to give him the chance to continue to start, but a move to the bullpen would lessen his value. I see a pitcher who will look dominant on some days and rather ordinary on others. If the changeup develops, he's a #2. If it doesn't, he's a ROOGY.
[youtube=http://www.youtube.com/watch?v=CCyQIGVXRLs][/youtube]
4. Trevor Rosenthal, RHP- 6-2, 190, 5/29/1990.
Season overview: The former SS with the unbelievable arm speed started to develop this year, and reward those who believed in him as a future top prospect. Starting at AA Rosenthal enjoyed a consistent season that featured plus velocity, gobs of ground balls, and a continued development of his secondary offerings. Rosenthal had a 3.51 FIP with a 7.98 K/9 at AA Springfield. He moved to AAA Memphis and threw 15 IP in 3 starts and had a 2.67 FIP and increased his K rate to 12.6/9. Promoted to the big leagues, Rosenthal contributed a 3.09 FIP and a very good 9.93 K/9 rate. When the lights became brightest is when Rosenthal really broke out. Rosenthal forged a role in the middle innings and may have improved his stock as much as any player in the playoffs.
Tools: With Rosenthal the discussion begins with his fastball. Rosenthal uses blinding arm speed and solid hip/trunk rotation to produce velocity in the 93-96 range as a starter and hit triple digits as a reliever. The curveball has improved as he has focused solely on pitching and he shows a good feel for the changeup. I feel comfortable putting a 70 on his fastball as it has not only velocity but good control and a natural sink, producing ground balls at more than a 50% clip. The arm speed and spin he produces makes me feel confident he can eventually have a plus curveball, and a fringy changeup. He also throws a decent slider that has decent depth and good spin. Rosenthal has muscular shoulders and a very strong athletic frame which is perfect for pitching (though he's a little shortish for a righty). I do worry that he rotates his hips/trunk so quickly that his arm can trail behind. This produces a bit of a whippy motion and let his arm trail and land off balance to his left side. This puts a lot of pressure on the shoulder/arm. He can see him starting to lean and trail in the bottom photo below.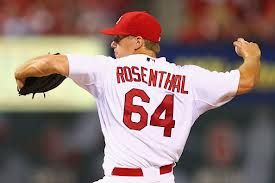 What could go wrong: Rosenthal could have arm trouble if he doesn't clean up his motion and reduce the arm drag. If his changeup doesn't evolve, he's running the risk of being relegated to the bullpen. Pitchers who rely heavily on velocity tend to have shorter shelf lives if the velocity leaves them after some miles on the arm. I've seen this particular pitcher in person many times, and with the stuff that he has, you would like to see less consistent contact made against him. Some say the fastball gets flat when he tries to overthrow, but when he remains free and easy, he's electric.
Future: Rosenthal has a bright future in whichever role the Cardinals decide to use him in. Armed with an electric fastball, the ability to get ground balls, an athletic frame, some upside remaining and an excellent mound demeanor, Rosenthal is a fantastic prospect who might be in the big leagues to stay. I think he eventually teams with Miller to be near the top of our rotation for years to come. If his swing and miss stuff doesn't get you excited, you might need to check your pulse.
[youtube=http://www.youtube.com/watch?v=bBtQ4r4KmWs][/youtube]
5. Michael Wacha, RHP- 7/1/1991, 6-6, 195.
Season overview: Meet your 2012 Cards breakout prospect. That might sound funny seeing as how he was just drafted in June, but Wacha signed fairly quickly and got started on his pro career in the Gulf Coast League. Wacha stayed on a starters schedule pitching out of the bullpen in one and two inning stints while dominating. They were ridiculously small sample sizes each step of the way, but Wacha posted some silly FIP's this season. He had a 3.00 FIP in the GCL, a -0.43 FIP at High-A Palm Beach (yes, that is a negative), and then a .08 FIP at AA Springfield. He also posted K/9 rates of 12.60, 18.00 and 19.13 respectively.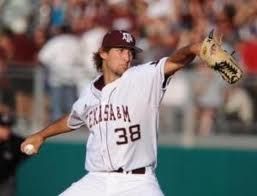 Tools: It's an interesting phenomenon evaluating pitchers coming out of college and into pro baseball. Velocity is generally going to be something you can count on being consistent- at least to start- but it's the secondary stuff that can vary wildly. College baseball uses a baseball with larger laces, which makes the grip easier to obtain on breaking pitches. College parks have wildly inconsistent mound heights, and they use the same ball after it hits the dirt etc. Most of those items would lead you to believe that their breaking stuff would always be worse, but that's not always the case. Sometimes pitchers feel they can get by with their fastballs, and when they get into pro baseball receive pro instruction and learn sequencing they start to show more natural talent than expected. Wacha has always had the great height and delivery, staying very tall in his motion and getting that downward plane you hear so much about, but his velocity is very solid as well, sitting in the mid-90's out of the bullpen and 92-94 while starting. Like most 1st round draft picks, his fastball is considered to be a plus pitch. What truly surprised me was his changeup, which had the reputation of being a 45 pitch, but I saw him out of the bullpen on two occasions and the pitch was absolutely filthy both times. His changeup had downward fade and great arm speed. He kept the ball down and generated swings and misses from AA hitters. I've read that scouts do not like his arm action on the curveball and would like to see him go back to the slider as his main breaking pitch. The curveball was spotty during my time seeing him, and I didn't get a great read on the pitch. What I do like is the fact that he has a fast arm and long levers which should help him as he finds the right pitch for him to use. I'd prefer he go with a slurve rather than either/or on the curve/slider question. His motion lends itself to a fading curveball rather than a true 12-6 type curveball.
What could go wrong: There are a lot of things that could go wrong for Wacha as he has been handled with kid gloves to this point, going only two innings or less in each of his appearances. While his stuff has played way up thus far, it is hard to gauge whether that is due to coming out of the bullpen in short stints only once every five days, or whether he has truly taken a step forward in his early development. As a 6-6 pitcher, the possibility that his mechanics get out of whack is always there and there were times in college that his command would waver.
Future: Truth be told, I like Wacha more than I like Martinez. I was a big fan of the pick where he was selected and even thought he could start his career in the major leagues and not embarrass himself. He is ranked behind Martinez due to the fact he did not start in his debut and the sample size is so small, it's hard to know at this point if his stuff will stay as solid once he's going 6 or 7 innings a game. He has the look of a future #3 starter who will eat innings and be a fixture in a big league rotation. Big fan of what I saw from Mr. Wacha.
[youtube=http://www.youtube.com/watch?v=P6LQBqBarIA][/youtube]
[youtube=http://www.youtube.com/watch?v=52K2vrinkpQ[/YouTube]
6. Kolten Wong, 2B- 5-9, 190, 10/10/1990.
Season overview: Playing the entire season as a 21 y/o who had already reached 2B, it's tough to say Wong had a disappointing season, but he didn't take the next step forward that some had hoped from him. Wong played at AA Springfield and was an above average hitter with a wRC+ of 111, and a triple slash line of .287/.348/.405. In a home park with a park factor of 138 for HR's and 110 for extra base hits from lefties, you'd like to see a little more in the slugging department.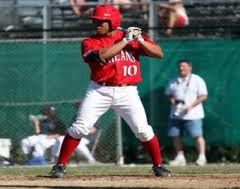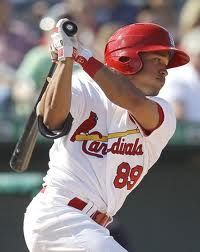 Tools: The diminutive lefty is solid average across the board from a tools perspective, but does not possess any elite tools. Wong can hit a baseball and loves to play the game. He works hard at his craft and is known to be a gym rat. He has a simple, smooth swing plane that stays in the zone a long time. He can consistently barrel a baseball and has above average bat speed. He is an aggressive hitter with a big follow-through and lots of effort in his swing (drawing comparisons to Pedroia). He lets the ball travel deep and uses all field when behind in the count and looking to pull the ball with authority when ahead in the count. Really soft hands at the plate and has a quiet set-up. Standard leg kick and simple stride, but can let his stride get a little long when he's fooled on breaking stuff, and tends to roll over on good breaking balls. He's been trained well on hitting and he is always looking for an edge. I am comfortable putting a 60 on his hit tool, and that is plus. For me, the hit tool is the most important tool to possess. If you can't handle the bat and can't make consistent contact at the plate, you aren't going to be a good hitter. Wong is more of a doubles hitter and he generally needs to pull the ball to hit for power. He has decent hands, a strong arm and has improved his pivot and turn quite a bit from the time he entered pro ball. Wong is an instinctual runner whose speed plays up due to jumps and baseball IQ. I'd say his glove is currently a 55 and has the potential to be a 60. His arm is a 55 and is just fine for a 2B'man.
What could go wrong: Wong is a 2B'man who projects to be a player whose whole is greater than the sum of his parts. With that though, he needs to project to be a starter to have a career in the big leagues. The reason for this is if you can't be a starter at 2B and you can't play SS or 3B you can't be a utility guy. It's sort of push all your chips to the center of the table pick when you pick one in the 1st round. It's no secret I wasn't a fan of the pick for this reason. If Wong's power doesn't develop any further and he slows a tick as he matures and fills out, he could drop a level and no longer be a starter on a championship team.
Future: Something to remember with Wong is he is quite young for his draft class, and there may be some further development present in this player. I see Wong continuing his developmental path and reaching the big leagues at some point next season. I would not expect Wong to be a superstar, and comparisons I've seen to Dustin Pedroia are off base IMO. Wong swings with all of his might and if we didn't have Tavares in the system, it might draw more pub for being all-out. He'll be the starting 2B'man for the foreseeable future and will be along the lines of a .270/.330/.370 hitter with a solid glove and double digit steals and fit in that traditional #2 type hitter. He develops the power just a tick and all of a sudden he's a star. For the Cards, that's a welcomed stat line at the position.
[YouTube=http://www.youtube.com/watch?v=_oiLNa53fT8][/youtube]
7. Tyrell Jenkins, RHP- 6-4, 180, 7/20/1992.
Season overview: Of all the players listed thus far, Jenkins is the one who would most like to forget 2012. Jenkins made his full-season debut this year after two years in rookie leagues and had a terribly inconsistent year. If you look at his overall numbers, they look pretty poor at first glance, with a 5.14 ERA in 82+ innings. A deeper look though show that his K rate remained virtually the same at 8.74 compared to 8.84 the year before and was a victim of poor luck with only a 60.3% strand rate and a .336 BABIP. Jenkins battled mechanics that would vary wildly from the bullpen to the mound and never did find a consistent release point the entire season. Jenkins ended the year with a solid 3.47 FIP mainly due to a solid K rate. His walk rate skyrocketed to 3.94/9 and he had 11 wild pitches. Similar H, K, HR rates as the year prior, Jenkins just needs to find consistency to really take off on prospect lists.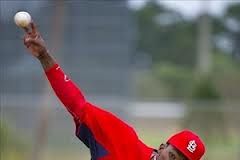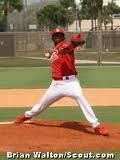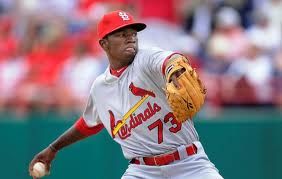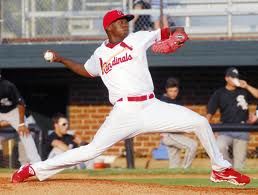 Tools: Jenkins is pretty much the prototype when looking for a pitching prospect. 6-4 with long levers and a smooth, athletic motion, the ball explodes out of his arm. Jenkins is only 20 years old and already in his 3rd professional season, Jenkins is a developmental prospect after having played football and running track for most of his life. Jenkins was a QB recruit to Baylor and is among the most athletic pitching prospects in baseball. Athleticism is big because it makes it easier to have a repeatable motion. It's for this reason I struggle so much with Jenkins when projecting him forward. He's so athletic and has such a good arm, you'd expect more. Such is life with prospects, and some nights you'll see a mid-90's fastball with an easy 70 grade, and other nights you'll see him fighting himself and throwing 91-92 that is flat and up in the zone. His arm speed is fantastic and the spin he creates is among the best you'll see. It's easy to see his curve one night and throw a 7 on it without question, and other nights it's flat, loopy and up in the zone and you wonder if it'll ever play in the bigs. For such an underdeveloped pitcher, I love his feel for a changeup, and think it's an underrated pitch that has a chance to be a 55 one day. Jenkins is even able to stay on top of the ball and keep it down and run it in and away depending on finger pressure. With basically a four pitch mix, an athletic frame and motion and the potential for even more in the future, Jenkins is ultra-toolsy. He has a classic drop and drive motion, with a ¾ arm release that I saw all over the place just in looking for images of his motion.
What could go wrong: With Jenkins, he is going to be a kid that takes a long time to develop, mainly due to his inexperience playing the sport. It takes a long time to build up the muscle memory of a motion, and Jenkins not only needs to develop that muscle memory, he needs to learn sequencing, pitching to both sides of the plate as well as how to throw his pitches both for strikes and purposely out of the strike zone. As if that wasn't enough, Jenkins is starting to develop a reputation as a bit of a stubborn pitcher who does not take instruction well and has a poor mound demeanor. I cannot verify this information, and normally I wouldn't write about if I wasn't able to verify the information, but I read enough third hand reports that I smell smoke.
Future: Too early to tell with Jenkins. I have cooled on Jenkins quite a bit due to questions about work ethic, mound demeanor and mechanical issues. To say I've cooled merely means I've stopped considering him among our top pitching prospects, but not cooled on his immense potential. Jenkins is one of the few pitching prospects with the chance to have four above average pitches, and in the slim chance that he reaches his full potential, could be an ace of a rotation. Jenkins is at least four years away, but could be someone to wait on, or dangle as a high upside trade chip.
[youtube=http://www.youtube.com/watch?v=oVbCWCODDcU][/youtube]
8. Matt Adams, 1B- 6-3, 230, 8/31/1988.
Season overview: Adams had another solid year at the plate and made his major league debut when Lance Berkman was injured. Adams had a 148 wRC+ at Memphis, in a home park with a 117 park factor for HR's but neutral for runs and only a 78 for 2B/3B. Adams had a triple slash line of .329/.362/.624 but saw his BB rate drop to 5.4% and his K rate climb to 20.7% from 7.8 and 17.5% respectively while at AA. Adams struggled in the big leagues with a line of .244/.286/.384 and a wRC+ of only 82. Adams even had a BABIP of .317, so you can't say he was a victim of especially poor luck.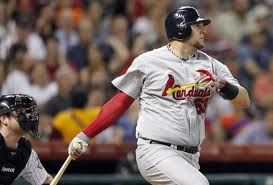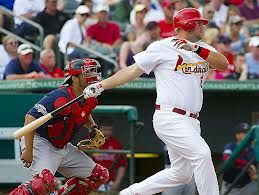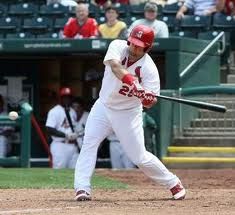 Tools: Any talk of tools with Matt Adams has to being with power. Matt Adams generates power based more on his sheer mass than through ultra-crazy bat speed or perfect leg drive such as an Oscar Tavares type. Adams is listed above at 230, but I'd think the 1st photo below will show that's a farce. Adams is gigantic, with huge thighs and the midsection to match. Despite the size, Adams certainly has a clue at the plate, and does an excellent job of letting the ball travel deep into the zone and using solid bat speed to drive the ball to right center. He can absolutely crush the ball pull side, but has no problem driving the ball out of any field of the park. True 70 power, 50 hit, 30 run type player. He is a 1B only player defensively, but has softer hands than you'd expect and decent feet for such a large man. Very limited range to his right, but pretty adept at picking balls out of the dirt, he's a 45 glove man.
What could go wrong: Adams is a bat only 1B prospect, meaning he'll have to hit and hit a ton to be a major leaguer. There are questions about his approach, and the drop in walk rate and rise in K rate is a little disconcerting. Adams does nothing else even average other than hit, so even a small dropoff in projection will result in a AAAA label.
Future: Cloudy. Where does a player like Adams fit within the Cards future plans? Craig figures to have 1B locked down for the foreseeable future, and even if the Cards wanted to move Craig to open up a spot for Adams after Beltran leaves, Tavares is a better prospect than Adams. Already 24 years old, the future is within sight for Adams. To me, Adams best value may be as a trade chip to an American League team in need of a DH. If not, the Cards could decide to carry him as insurance for the injury prone Craig, and as a big bat off the bench.
[youtube=http://www.youtube.com/watch?v=gRF7ZEQ9vFs][/youtube]
9. Carson Kelly, 3B- 6-2, 200, 7/14/1994.
Season overview: 2012 draftee who was selected in the 2nd round and was one of the only draft picks correctly predicted due to the interest the Cards showed in him prior to the draft and during the showcases. Kelly's numbers do not look impressive on the surface, but when you consider the fact that Kelly started his career in Johnson City rather than the complex instructional leagues at 17 years old, you start to see how impressive it really was. Kelly hit .221/.259/.394 for a wRC+ of 78. Hitting 9 HR's at the age of 17 against players from mostly college programs is extremely impressive and shows a great future.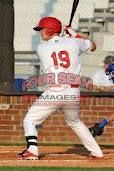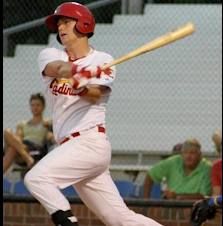 Tools: The first thing you notice with Kelly is he looks great in a uniform. With an athletic physique and frame, wide shoulders and the ability to carry a lot more weight, you can see the future development available with Kelly. Kelly was considered a top-10 round pitcher, if not higher, and has been clocked as high as 95 on the mound. He obviously has more than enough arm for 3B and is considered plus plus. Good natural instincts for the position, but has never focused solely on 3B defense and it shows at times as he doesn't always look natural out there. Has solid hands, good reactions and should develop into an adequate 3B'man in time. Is a solid runner who has 50 game speed. The power is what got Kelly $2.2 million to sign away from the University of Oregon and turn pro though. Great bat speed, a solid load, good hip rotation and quick wrists generate well above average power that could be 65 at its' peak. Looks like an athlete, and a pretty toolsy player at 55 hit, 65 power, 65 arm, 50 defense and speed. As he develops, he has the chance for even more.
What could go wrong: Kelly just turned 18 and has a long way to go in his pitch recognition and defensive skills. He crushes mistakes now, but needs to learn to stay back on breaking balls better and make more consistent contact. His walk rate is not anything to be overly concerned with currently, but if he continues to swing at pitches out of the zone, pitchers will relegate his power useless.
Future: He has the talent and tools to be an above average starting 3B'man on a championship club and hit 5th in a lineup. Arm strength could make him a reliable 3B'man who starts double plays quickly and comes in on balls well. Long time to go here, and at least four to five years away. If he fails as a hitter, could always go back to the mound and try to make it there. Cards love prospects like this who are young for their class, from cooler climates so there is still quite a bit of instruction and development to go, and are extremely athletic and have pitcher worthy arms as a fallback plan if hitting doesn't work out. Big fan of Kelly, and interested to see where the Cards place him to start next season. I'd expect he'll repeat the same level and go from there.
[youtube=http://www.youtube.com/watch?v=aS7XK8MaUlY&feature=related][/youtube]
10. Stephen Piscotty, RF- 6-3, 195, 1/14/91.
Season overview: The third member of the 2012 June draft already listed, Piscotty had a nice debut and offered a glimpse of the promise to come. Piscotty started his career in full-season ball with Quad Cities and more than held his own to the tune of .295/.376/.448 with a wOBA of .379. He also posted a wRC+ of 134. Piscotty showed excellent contact skills with a walk rate of 7.6% and a K rate of 10.5%. You'd like to see the walk rate a touch closer to 10%, but the K rate is fantastic. Playing the entire season as a 21 y/o, Piscotty is right on schedule developmentally.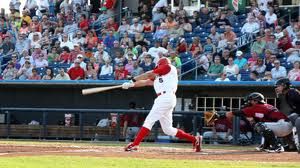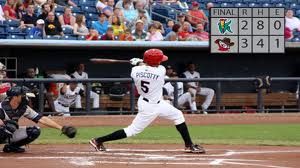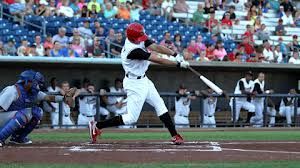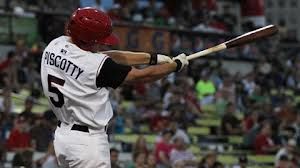 Tools: If you look for an example of what one means with the saying, "Body beautiful" you'll find a great one in Piscotty. Chiseled, athletic, muscular with long levers are characteristics you love to see in a ballplayer. Piscotty moves well, has a great arm, and shows a fairly high awareness on the baseball field. His hit tool is above average, and shows future plus. He shows a great approach and knows how to use all fields when he hits. The last part tends to be a fault as well. Photo one and two above show excellent balance at the plate and a great extension. A swing with that kind of balance, coupled with the physical strength and bat speed exhibited should result in more power than he shows in games. What holds him back is the famous "Stanford swing adjustments." You can see him pulling his hands in and taking his power away in photo three, and you can see the hips not going through his swing in photo four. I'd like to see him get his hips around and the barrel of the bat around and pull the ball with authority more often. If he does that, I believe he can increase his power quite a bit at the professional level. You might also have noticed that I list his position as RF rather than 3B, and that's because he does not have the hands to stick at 3B. A move to RF will necessitate even more power at the professional level, and a .152 iso will not profile well. Present day Piscotty profiles as a 55 hit, 50 power, 50 run, 55 arm, 40 glove player. Future Piscotty I'm confident will be a 60 hit, 60 power, 50 run, 55 arm, 50 glove player and that profiles as a starter on a championship club.
What could go wrong: The swing adjustments sabotage his swing permanently, and he doesn't take the necessary steps forward with his approach and becomes a go-the-other-way slap hitter despite his physical appearance. Piscotty could lose a step as he fills out and become a below average runner. That player does not profile as a major leaguer.
Future: I went into the draft with a preconceived bias against Piscotty, but after watching a lot of tape of his, especially hitting in the cage, I came around to him and started to like his potential a lot more. I am buying the bat, and feel with professional coaching he can become more aggressive, open his hips and try to pull the ball with authority more often. I think it's easier to teach a hitter to pull the ball more when appropriate, rather than trying to teach a dead pull hitter who has to cheat to hit to use all fields. He has natural athleticism and a plus arm. Solid prospect and a bright future. Another prospect who is young for his class, continuing the Cards preference for age + level.
[youtube=http://www.youtube.com/watch?v=rj-q3yS7bcw][/youtube]
11. Jordan Swagerty, RHP- 6-1,170, 7/14/1989.
Season overview: Well, this will be short. Jordan missed the season due to an Tommy John surgery.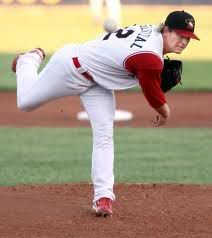 Tools: Swagerty is armed with a low 90's fastball and a plus plus slider. He's undersized and has a lot of effort in his delivery, which makes me believe a move to the bullpen will be in his best interests. Swagerty lacks a great feel for his changeup, and lacks the physicality to start long term. He does have the plus command of his fastball, swing and miss stuff in his slider, and pitchability to be an above average reliever.
What could go wrong: Swagerty is a pitcher. Swagerty is coming off of TJ surgery. Swagerty has a lot of effort in his delivery and lands on his front foot with a stiff leg and a lot of pressure on his arm. Yeah, there are a lot of things that could go wrong with Swagerty.
Future: Swagerty screams 7th inning reliever to me, and a darned good one at that. Teams are starting to realize the value in a cost controlled reliever who can come in and shut an offense down with plus stuff and prevent walks. You saw the Cardinals trade a former 1st round pick for a 7th inning reliever just this year. Swagerty zoomed to AA in his first year in the system once he moved to the bullpen and should be knocking on the door sometime this year provided his stuff is all the way back after TJ surgery. Doctors have TJ surgery down to an art, and while his command/control may take some time to come all the way back, I do expect him to cement himself at the top of the pecking order for the Cards bullpen within a year, just in time for Mujica to be a free agent.
12. John Gast, LHP- 6-2, 215, 2/16/1989.
Season overview: Gast had outstanding numbers at the AA level this year, with a 1.93 ERA. His ERA was propped up by an 86.7% strand rate, a .243 BABIP and contributed mightily to his FIP registering 3.69. Gast moved up to AAA and saw his number deteriorate, but a deeper look at his stats show his performance was pretty much the same. A slight uptick in his walk rate from 2.28 to 3.46 and a BABIP of .331 offset a similar K rate of 7.08 from 7.19. At AAA, he had a Runs Above Average of + 15.2, which in the PCL environment is very good.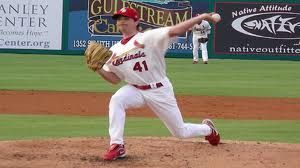 Tools: Gast has a 91-94 mph fastball that is plus velocity from a southpaw. His curveball has improved, and his slider has late fade. A big plus is he has an elite pickoff move. Unfortunately, Gast doesn't exhibit much of a platoon split and doesn't profile extremely well as a LOOGY. You can see above he shows the ball clearly and lacks deception in his delivery. Gast has always had a big arm, but has taken a step forward as a pro.
What could go wrong: Gast has always struggled with command/control and his secondary pitches continue to lag behind. Being a pitcher, injuries are always a concern. In fact, Gast struggled with injuries all throughout his time at Florida State. His K rate is lower than you would like, and he doesn't really profile as a LOOGY.
Future: Gast profiles as a back of the rotation starter who will keep his team in the game, and rely on his home ballpark to look decent on the stat sheet. A fly ball pitcher with a good fastball, Gast profiles as a major leaguer in some capacity, albeit with a low ceiling. I, admittedly, have always had a bit of shine towards Gast due to his arm and left-handedness.
13. Victor DeLeon, RHP- 6-2, 190, 4/19/1992.
Season overview: Most likely the first real surprise on the list, DeLeon made his way to Johnson City this year and continued to flash plus plus velocity while improving in the walks area. In 44 1/3 innings, he struck out 42 and had a ground out to fly out ratio of 1.26. DeLeon had a FIP of 3.09.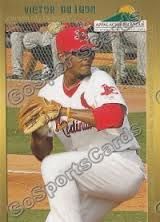 Tools: Like many of the arms that have made this list thus far, DeLeon makes the list due to his arm strength. He can dial it up to 98 occasionally and sits 95 easily. He has a great pitchers frame with long levers and fingers and athletic movements. DeLeon has muscular legs, that he uses in a traditional high leg kick delivery and then maintains his follow-through. He stays on balance fairly well, and as he gains professional instruction, I do see some development possible. His slider has taken a large step forward and got him on this list. His changeup lags behind and currently sits as a 40 grade pitch. He took another step forward with his control, slightly dropping his walk rate to 4.06. Where he made needed strides was in his command, demonstrating a better ability to spot his fastball rather than just throw it and hope for the best. Armed with a 70 fastball and a developing slider, De Leon has an arm and frame that bears watching.
What could go wrong: Standard pitcher caveats apply with DeLeon. In addition to that risk, DeLeon is a 20 y/o still at Johnson City who has exhibited issues with both his command/control and doesn't miss nearly as many bats as you'd expect for a kid with his velocity in a rookie league. His slider fails to develop, professional instruction doesn't smooth out his delivery and improve the command/control of his fastball and he continues to try to blow everything past hitters resulting in a fastball that stays up and doesn't take advantage of the natural sink on his fastball. DeLeon is the player on this list that I have seen the least, and I'm relying on a small sample size and the fact the Cardinals thought enough of him to invite him to their early minor league camp event.
Future: Last year, the Cardinals instituted a process of inviting prospects they see a lot of potential in prior to most minor leaguers in Spring Training. This year, they invited 24 prospects to attend the day before position players reported and 10 days prior to the other minor leaguers. The first year included prospects such as Trevor Rosenthal, Ryan Jackson, Carlos Martinez, Oscar Tavares and others. Victor DeLeon was invited this year, and the Cardinals see a lot of potential in his arm. If things break right, DeLeon is a power armed starter who piles up strikeouts and innings. At worst, he looks like a power armed reliever and one of next year's breakout prospects to the general public.
14. Patrick Wisdom, 3B- 6-2, 210, 8/27/1991.
Season overview: Came into the year a highly regarded prospect for St. Mary's College who had just led the Alaskan Summer League in HR's. His season at St. Mary's did not go as well as expected, and he went higher than most experts expected at 52nd overall. Wisdom did his part to make the Cardinals look smart with his offensive performance at rookie level Batavia. Wisdom hit .282/.373/.465 and had a .389 wOBA and a 147 wRC+ (nearly one and a half times the average hitter for the league). Had a good walk rate of 11.1% (above 10%) and a decent K rate of 20.8% (like it below 20%). The fourth 2012 June draft pick to make the list.
Tools: Big, thick kid with soft hands and good power. He has a good approach at the plate and will take a walk and wait for his pitch. You can see in the second photo that he will drive the ball up the middle and lets the ball travel deep into the zone before pulling the trigger. Unlike Piscotty, Wisdom picks his spots to spin his hips and pull the ball with authority. Hit tool of 50, power of 55, arm of 45, glove of 60. I really like Wisdom's hands, which are soft and will allow him to stay at 3B and be an above average defender. His arm is rated as a 45 by me, but that is only because an average 3B arm is very good. Wisdom has plenty arm to make the throws and is accurate and quick with his release. Wisdom is a below average runner who will only slow as he ages. Stop me if you've heard this before; Wisdom is a younger prospect for his class.
What could go wrong: Wisdom struggled with a newer bat type in college ball that reduced the amount of spring in the bat, and he regressed to hit under .270. As a professional, he actually improved his performance and looked more like the hitter he was expected coming into the year. With a small sample size and a lack of elite tools, Wisdom runs the risk of being little more than organizational depth if his power is more a result of competition rather than a real step forward. Wisdom is a large man, and if he continues to fill out he may require a move to 1B where his bat does not profile well enough to make it.
Future: Wisdom has the look of an average starting 3B'man in the major leagues with a solid glove and occasional power. He'll draw a walk and makes just enough contact for his profile. You could do worse than Wisdom as a lead prospect at 3B, but the Cardinals are blessed to have several at the position and can develop them accordingly. I was impressed with Wisdom in my research, and like him more than many others will.
[youtube=http://www.youtube.com/watch?v=L4NUDk__SMM][/youtube]
15. Charlie Tilson, CF- 5-11, 175, 12/2/1992.
Season overview: Second player on this list to suffer a season-ending injury in 2012, Tilson did not play in 2012 outside of extended Spring Training.

Tools: At his best, Tilson profiles as a speedy, leadoff hitter type CF'er with above average defense and below average power. The shoulder injury he suffered this year will remain to be seen how much it impacts his power. Tilson had several hitting adjustments to make prior to professional ball, but had a great start last year. Tilson was also invited to the above referenced minor league preview event for the Cardinals. Has next to no power, but is an advanced hitter with an approach that lends itself to the top of a lineup. Big fan of his swing, which stays on balance, uses a nice weight transfer and quick wrists to pull the ball when inside and slap the ball the other way when away from him. Has the necessary bat speed to hit velocity and can let the ball travel deep when fooled. Has the speed to hit the ball on the ground and beat it out. Very good bunter (Mike will love that), and hits the high pitch when not elite velocity. Gets great jumps in the OF and profiles as an excellent defensive player.
What could go wrong: Generally, all speed, no power prospects that have to stay at a premium defensive position to remain a prospect are my least favorite. Tilson has no power whatsoever, and shoulder injuries tend to linger. Tilson has already missed valuable development time, and was a northern prospect to begin with, which means he was already behind the developmental curve.
Future: Tilson was a well-above-slot, seven-figure signee who the Cardinals took the chance on last year in the second round. That means he'll be given far more chances than the average prospect. I'm not overly confident in Tilson's profile, but I like his reputation as a gym rat, and still remember his claim to fame performance on the showcase circuit two years ago. Hopefully, Tilson will come back healthy next season and build on the quick start he enjoyed two seasons ago.
[youtube=http://www.youtube.com/watch?v=BTtjHqugs8U][/youtube]
16. Maikel Cleto, RHP- 6-3, 235, 5/1/1989.
Season overview: On the surface, Cleto had a poor season at AAA with a 5.37 ERA. Looking deeper though shows a 58.8% strand rate and a .346 BABIP contributed heavily to his struggles. His FIP of 3.16 shows a much better representation of his season, with an 11.07 K rate and an improved 3.69 walk rate.


Tools: Yet another reliever with the ability to hit triple digits, Cleto lives and dies with his fastball and fastball command/control. He throws a slider, and he spins a changeup, but his fastball holds the keys to all his successes.
What could go wrong: Well, to his point it has been going wrong. Cleto's fastball is 100 mph, but it is straight as an arrow and tends to get hit a long way. He also falls behind in the count allowing the hitter to look fastball and get their swing started and hit the ball far. Cleto is also aging and is starting to lose prospect luster. Standard pitching injury caveats apply as well.
Future: It is not for Cleto, who needs to step up and make the team or he could be in a new organization soon. Having a power arm like Cleto waiting in the wings is a luxury most teams do not enjoy, and with an arm like this, you give it as many chances as you can.
[youtube=http://www.youtube.com/watch?v=fhL6diz8vvc][/youtube]
17. James Ramsey, OF- 6', 190, 12/19/1989.
Season overview: The 5th draftee from the 2012 class, was a 1st round pick and carried high expectations and a reputation as a polished bat. The Cardinals pushed Ramsey to high-A Palm Beach and he struggled to the tune of .229/.334./.314 and a 90 wRC+ and a .309 wOBA.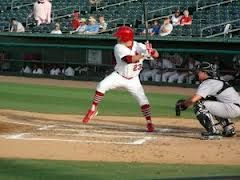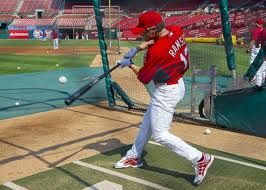 Tools: Ramsey is a player that the Cardinals feel is a sum of the parts type, rather than a toolsy player. He doesn't have an elite tool, and the one plus tool- speed- is not more than a 55. His hit tool is good in the sense that he has great bat control and can make contact, but the contact is normally weak and just guided, rather than driven. His hitting approach is similar to Ichiro with no power, often loads on his back foot and then slaps the ball with a toe tap you can see in the first photo above. He will struggle to be an above average CF'er and does not profile as a corner OF'er at all.
What could go wrong: Ramsey is a gritty player that relies on contact and the ability to stay in CF to be a major leaguer. He has next to no power, is already aging, and has the pressure of being a 1st round pick. If he loses a step as he ages and with it a tick of speed, he'll be Skip Schumacher without the ability to play 2B. I think he will struggle mightily against good left-handed pitching as well.
Future: I feel the same way as I did the day we drafted him; Ramsey is just not a prospect to be excited for and doesn't profile as a starter for me. If he stays in CF, his character and work ethic will make him an ideal 4th OF'er who can move a runner, play adequate defense, make consistent contact at the plate and not hurt your team off the field.
[youtube=http://www.youtube.com/watch?v=Co9p82AjA9M&feature=related][/youtube]
18. Ryan Jackson, SS- 6-3, 180, 5/10/1988.
Season overview: I imagine that you might get a mixed reaction when asking Jackson about his 2012 season. On the one hand, he made the major leagues for the first time, but on the other hand, he struggled when given the chance and played only 2B in the big leagues. In fact, Fangraphs actually lists his position as 2B because of that. Forgotten man Pete Kozma also enjoyed a bit of a revival and had some big hits early on the postseason, while passing Jackson in some people's eyes. .272/.334/.396 with an 89 wRC+ at the AAA level.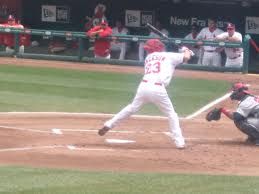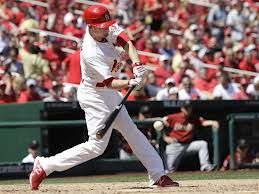 Tools: Jackson's one plus tool is his glove. Luckily, SS is the one position where a plus glove can play. He has good range, great hands, excellent instincts, and a good arm. He has solid speed, but not above average. He has strong wrists, and has reworked his swing to allow the ball to travel further and go the other way with the ball. Jackson needs to drive the ball better and not allow pitchers to knock the bat out of his hands with good fastballs. Velocity really bothers Jackson, and when he gets off balance he hits weak ground balls and doesn't have the strength to adjust.
What could go wrong: Jackson has the glove to have a career as a utility man due to the fact he can play multiple infield positions. The problem is, that is pretty much his ceiling as well. He could be a second division starter if he increases his strength some and gets to where he can handle velocity.
Future: Jackson is a SS who relies on hands and instincts to be a plus defender. He is not an elite range guy such as Boog was. He has a good, not great arm, and needs to gain strength in his long wiry frame. Jackson is a bigger SS who has shown marked improvement since he has entered pro ball and has already made his major league debut. He will most likely battle Kozma for the future utility role, and could be a tertiary piece in a trade.
[youtube=http://www.youtube.com/watch?v=BXAEZPMJpdU][/youtube]
19. CJ McElroy, OF- 5-10, 180, 5/29/1993.
Season overview: McElory continued to struggle hitting pro pitching in 2012 at the rookie level. McElroy finished the year hitting .271/.314/.332 with an 84 wRC+. The main difference between his numbers this year and last was an increase in his BABIP. His iso was only .061 in a small sample size, and his walk rate reduced to 5.6% and K rate fell to 15.7%.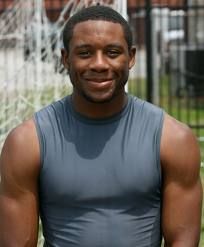 Tools: So why is McElroy listed on the top prospects page? Because he is an athlete's athlete. He was a football star as well, and the Cardinals signed him away from a Houston commitment to play both sports. As you can see in the picture above, he is a prototype athlete with speed, strength, frame and future potential if he can turn his athleticism to baseball skills. Extremely fast, good strength, excellent hand/eye coordination, and an exciting future. Right now though, he is a mess fundamentally, has a short setup in his hands, and is fooled by breaking pitches and late on velocity. A dreaded combination that will take time to fix.
What could go wrong: McElroy is your classic tools bet prospect who has a very high ceiling if everything clicks, but a low chance of actually reaching that ceiling. His upside is as high as most players in the top-10 of this list, but the chances of reaching that ceiling are remote.
Future: Another young prospect for his class, McElroy just started focusing on baseball full-time and the results he puts up currently should be ignored almost entirely. What the focus should be on is development and teaching. McElroy is a great tools bet who could be an exciting leadoff type with speed, athleticism, glove and surprising pop.
[youtube=http://www.youtube.com/watch?v=NnNvdVOEfy8][/youtube]
20. Anthony Garcia, OF- 6', 180, 1/4/1992.
Season overview: Garcia started the season slowly, but turned things around in the second half of the season. Garcia has hit at every level, but has not been a quick mover for the Redbirds to this point. Garcia played the entire season at low-A Quad Cities and hit .280/.354/.525 with a 139 wRC+ and a wOBA of .378.
Tools: Here's the great debate with Garcia, who has hit at every level and hit for power as well. What exactly are his tools? Garcia started his career as a catcher, and would be a huge prospect if he had been able to stay there. Now that he has moved to RF, he is an undersized RF'er who has not convinced scouts that his power is real. Most believe he cheats to get to great velocity and hits most of his HR's off of mistakes. Having a HR/FB rate of 11% lends some credence to the theory he's been a little fortunate. A few things have made me pause on Garcia. Having watched him a few more times, I simply don't see the tools that match up with the stats. He's age appropriate, but appears to be regressing each step up the ladder in plate discipline and continues to cheat to get to velocity more and more, easily being fooled by breaking stuff in the dirt. I've reduced my grades on him to 50 hit, 55 power, 45 arm, 45 glove, 45 speed. The hit and power profile as a 4th OF'er, but the fact he continues to produce keeps me hopeful he'll outperform my projection (I'm a notoriously conservative grader, so it isn't impossible to develop a little further than I expect).
What could go wrong: Garcia could prove me right about his limitations both athletically and projection wise. His power could fall apart, and the large increase in his K rate could prove the bad omen it normally does. Players with K rates at or above 25% fail at an alarming rate, and Garcia has seen his K rate rise with each promotion and his walk rate fall accordingly. Not at 7.7% walk rate and a 24.1% K rate, it is obvious he has to guess and cheat to get to good pitching at this level.
Future: I still believe Garcia has a chance to make it to the big leagues, but it's obvious the Cardinals are not convinced of him. They have been slow and steady with any and all promotions and we just don't know enough yet to know if Garcia is going to have the potential to make the bigs. It's hard to see his big stats and not think more of him, but Colin Walsh put up crazy stats as well, and he's not seen as a big prospect either. There's some talent here, an ability to hit for power when he gets a mistake, and a streaky hitter when his timing is there. Interesting follow player.
21. Greg Garcia, SS/2B- 6', 175, 8/8/1989.
Season overview: Garcia enjoyed another solid season in 2012 to the tune of .284/.408/.420 and a 137 wRC+. He had a fantastic 15.9% walk rate, and a 16.3% K rate. Garcia has had a BABIP of over .320 every year in professional ball, so he has a fairly large sample to deduce that isn't terribly out of line.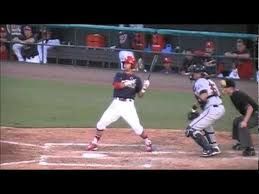 Tools: Garcia is a grinder who isn't a quick twitch athlete who will wow you with speed or athleticism, or great power for that matter. What he does do is control the strike zone, barrel pitches all over the place, and play multiple positions. He has improved his footwork to the point where he could fill in at SS if needed and is a solid 2B'man. Bat stays in the zone for a long time and has a solid hit tool. Must show he can handle elite velocity and hit left-handers.
What could go wrong: Garcia is a grinder, but that is often times synonymous with lack of tools. A lack of tools means he'll have to prove it at every level. Most likely, Garcia is a future utility player in a system with several utility types ahead of him in the pecking order.
Future: Garcia is a favorite of mine and I wanted to include him on this list. Often times, the skill that translates the best to the big leagues is the ability to control the strike zone, and Garcia does that well. He is a left-handed hitting prospect in a system with several of those as well. To be a starter, he's going to have to show the power improvement wasn't just the byproduct of the great hitting environment at AA Springfield. Garcia is the former teammate of hyped prospect Kolten Wong at Hawaii and he has a shot at the big leagues himself.
[youtube=http://www.youtube.com/watch?v=r5IC9saVOAI][/youtube]
Others of note:
Steve Bean, C- Plus defender with some tools at the plate. 2012 draftee out of Texas high school. Long ways away, but profiles as a potential major leaguer due to feel behind the plate.
Cody Stanley, C- Cards liked the plus defender and looked at as a possible future backup prior to being suspended for PED's.
Max Foody, LHP- 2012 draftee has size and projection. Decent fastball/curve combo currently and has missed some bats.
Seth Maness, RHP- control specialist lacking in stuff but big on guile and command. Will have to prove it at every level, but already in AA.
Robert Stock, RHP- former bonus baby C prospect who failed as a hitter and moved to relief role. Big arm, high velocity type who is trying to make bigs as a reliever.
Keith Butler, RHP- AA closer who relies on a slurve and command. Not great velocity, but possible big league arm.
Adam Ehrlich, C- young catcher who showed more with bat than expected and can handle a pitchin staff. Long ways from bigs.
Tim Cooney, LHP- 2012 draftee has solid velocity for a southpaw and a good breaking ball. Good size and frame gives him a chance.
Breyvic Valera, SS/2B- hits at every level but questions remain about actual hit tool and ability to hit velocity.
Boone Whiting, RHP- young prospect coming back from arm injury who has missed bats with deception and a good feel for pitching.
Colin Walsh, OF/1B- bat will need to carry him, but continues to beat odds by putting up good numbers.
The Cardinals have a fantastic minor league system, and even the loss of some prospects to the big leagues hasn't prevented excitement that the Cards can continue to provide starters, relievers, utility players and corner spots for years to come. They do not have much in the way of high upside talent up-the-middle, but may be able to parlay some of these prospects into other areas needed via trade if they so choose.