Classic. Go to bat.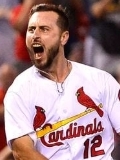 Joined: June 30 06, 7:49 am
Posts: 33948
Location: St. Louis
I definitely wanted to make a pic of Kip Wells for my avatar or sig that said: "DO NOT WANT" in the last couple of days.

But I lack the mad uber 133t internet skillz do make it happen.

Great thread!!