Update: last Tuesday the wife and I hopped on the treadmills to do our 5 mile run, and within a couple minutes I had developed some severe pain on the side of my foot. It wasn't on the ankle, heel, or the front near my toes, but more on the outer side (close-ish to the ankle). After resting it for a couple days I tried to run again and the pain was present the entire time. Even after those runs the pain would continue off and on for a few days. We both feared it may be a minute stress fracture or something that could affect the rest of my training regimen before April's race.
Yesterday afternoon I took the advice of my wife and went in to a popular running store in Minneapolis. I explained my situation and they had me walk a few steps, do a couple squats, and stand separately on each leg to see how my feet moved and landed. They immediately said it wasn't a stress fracture and was likely a shoe problem. I showed them my current shoes, which were about 2.5-3 years old but still had plenty of tread left on them. It turns out they weren't actual running shoes and were more of a cross-training shoe with support designed for working out in a gym rather than long distance running.
They gave me a new pair of shoes and had me hop on their treadmill where they filmed me running for 30ish seconds to get a gait analysis. It turns out my left foot lands inward quite a bit but my right foot does not. Both are pretty neutral when landing in terms of heel/toe. That new piece of information, combined with my high arches, led them to recommend a wide-toe running shoe. They only had two brands in stock in my size, so I tried both on and gave them a whirl on the treadmill.
Holy [expletive] what a difference it made. There was a pair of Brooks (which my wife swears by) but they were still a little tight on the top of my foot, so I ended up purchasing the
other pair
(New Balance 860v9's). At $125, they were also some of the cheapest shoes they had in the store. The store has a full 60 day return policy, so if the pain comes back then I can return them and try something else (they also carry custom orthotic inserts, so I may try something like that as well).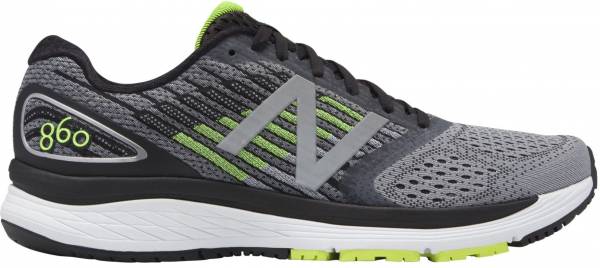 I put them on and went back to the Y and ran 4 miles without any problems. The pain was there when I started, but after about the first half mile most if it had gone away. It's still there slightly right now, but I'll pop a couple ibuprofen before my 4-5 mile run today and hopefully within the next couple days it will be gone entirely.