St. Louis
(1-0) at Milwaukee
(0-0)
April 6, 2012
4:10 PM ET, 3:10 PM CT, 2:10 PM MT, 1:10 PM PT
Miller Park, Milwaukee, Wisconsin
TV: FSMW, FSWI
RADIO: KMOX 1120

LHP Jaime Garcia vs. RHP Yovani Gallardo
Link for full article:
http://stlouis.cardinals.mlb.com/news/a ... l&c_id=stl
After big changes, Cardinals, Crew renew rivalry
La Russa, Pujols, Fielder gone from heated NL Central matchup
By Adam McCalvy and Jenifer Langosch / MLB.com
Quote:
"Oh yeah," Cardinals first baseman Lance Berkman said. "There's no question that it's going to continue. They don't like us and we're not fond of them. I'm sure that will continue."

Brewers outfielder Corey Hart is not so sure. He notes that three of the biggest personalities involved in past tensions between the teams are gone. La Russa retired from managing and took a job in the Commissioner's Office. Pujols signed out west with the Angels. Equally intense Brewers first baseman Prince Fielder went to Detroit.

Carpenter has not left, but he will not be a player this weekend. The Cardinals ace is on the disabled list with a nerve issue in his neck.

"It might be a completely different dynamic," Hart said. "Their two biggest personalities [La Russa and Pujols] and our biggest [Fielder] are gone. I think a lot of our conflict is because of the way Tony did things. Great manager, but he rubbed people the wrong way.

"I'm curious. A lot of the guys over there [with St. Louis], we like. So it's interesting. It's actually nice to open up with them to see what it's like, what kind of feelings are out there."

The St. Louis-Milwaukee dynamic went very public beginning Aug. 2 at Miller Park, when both clubs were warned after Pujols and Braun were hit by pitches. In that same series, La Russa filed a complaint with Major League Baseball about the LED ribbon boards at Miller Park, contending the Brewers were airing brighter ads when home hitters were at-bat, presumably aiding those hitters' vision in a ballpark where it is notoriously difficult to see.
Quote:
"We did have a little bit of a rivalry, but I think it made for some pretty good baseball," Cardinals closer Jason Motte said. "It made people want to tune in more to see if something was going to happen. It made for better baseball. When it comes down to it, you can have rivalries, you can have bench-clearing brawls, you can do whatever the heck you want, but at the end of the day, you just want to beat them. All that matters is getting the win."

In that area, the Cardinals finished on top. After playing so evenly throughout the regular season, splitting 18 matchups, St. Louis took the NLCS in six games.
The Series:
April 6, 2012-STL (Garcia) @ MIL (Gallardo)-3:10 PM CDT
April 7, 2012-STL (Wainwright) @ MIL (Greinke)-3:05 PM CDT
April 8, 2012-STL (Lynn) @ MIL (Wolf)-1:10 PM CDT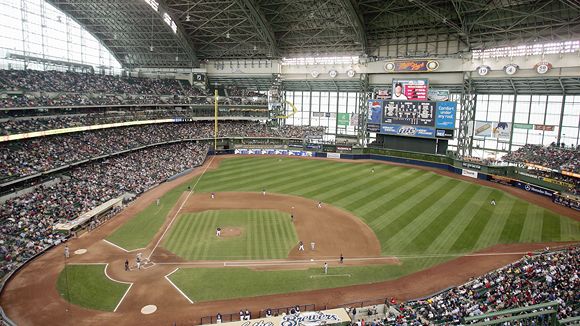 Miller Park,One Brewers Way, Milwaukee, Wisconsin 53214
Baseball Reference 2012 Cardinals Statistics
2012 Current MLB Standings
2012 Current MLB Wild Card Standings
2012 Current MLB vs. Division Standings
2012 Current MLB vs. Expanded Standings
Last Game:
St. Louis 4, Miami 1
WP: K. Lohse (1-0) S: J. Motte (1)
LP: J. Johnson (0-1)
Link for full article:
http://sports.yahoo.com/mlb/recap?gid=320404128
Cards spoil Marlins' debut in new ballpark, 4-1
Quote:
MIAMI (AP)—The sellout crowd in the Miami Marlins' new ballpark cheered the introduction of their starters, who were accompanied by women dressed as Latin showgirls. There was another roar for Muhammad Ali, who delivered the first pitch.

Then Kyle Lohse and the World Series champion St. Louis Cardinals went to work, and the place grew quiet.

Lohse held Miami hitless until the seventh inning and pitched into the eighth to help the Cardinals win the first game in Marlins Park, 4-1 Wednesday night.
Quote:
Quote:
David Freese, the World Series MVP, had a two-run single in the first inning to give Lohse the cushion he needed. Freese and Rafael Furcal each had three of the Cardinals' 13 hits.

"Tonight was fun," Freese said. "It's always nice to get the season going and to open up here, beautiful ballpark, the fans were excited about it and so were we."

Jason Motte earned the save with a one-hit ninth, completing the four-hitter and sending the Cardinals to the clubhouse to celebrate first-year manager Mike Matheny's debut win.

"We gave him a little water shower," Lohse said. "Most people go with the adult beverage but we went with the water."
Quote:
The first pitch from Johnson to Rafael Furcal caught the outside corner for a called strike. Furcal then grounded to new shortstop Reyes for the first out.

Cardinals newcomer Carlos Beltran followed with the first hit, a sharp single to right. He took third on a double by Lance Berkman, and Freese drove in both runs with a two-out single.

Furcal's two-out RBI single in the second made it 3-0, and a 50-foot groundout by Daniel Descalso brought home an insurance run in the eighth.

NOTES: The Marlins drew 41,237 for last year's home opener, then went on to finish last in the NL in attendance for the seventh consecutive year. … Before the game, Guillen said Ramirez has a chance to be the NL MVP. … The only no-hitter on opening day was thrown in 1940 by Hall of Famer Bob Feller for the Cleveland Indians against the Chicago White Sox. … Lohse pitched five shutout innings in his only other opening-day start, which was in 2008.