Milwaukee
(9-12) at St. Louis
(14-7)
April 29, 2012
2:15 PM ET, 1:15 PM CT, 12:15 PM MT, 11:15 AM PT
Busch Stadium, St. Louis, Missouri
TV: FSWI, FSMW
RADIO: KMOX 1120

Z. Greinke (2-1, 4.56) J. Garcia (2-0, 2.49)
Link for entire article:
http://sports.yahoo.com/news/brewers-ca ... --mlb.html
Quote:
The St. Louis Cardinals may have lost key pieces from their 2011 World Series championship team, but their title defense still has gotten off to a solid start.

The Cardinals seek their fourth straight win and first home sweep of the Milwaukee Brewers in nearly five years when the teams meet Sunday.

St. Louis (14-7) has jumped out to an early lead in the NL Central despite losing Albert Pujols in free agency and manager Tony LaRussa to retirement prior to the season.

Under new manager Mike Matheny's guidance, the Cardinals' lineup continues to produce, outscoring the Brewers 20-4 through the first two matchups of this three-game series, including a 7-3 victory Saturday.

David Freese tied Carlos Beltran for the team lead with his fifth home run and drove in at least one run for the third consecutive game. His 20 RBIs rank among the league leaders.

Yadier Molina hit a two-run homer as part of his 4-for-4 performance. He's hitting .421 with two homers and six RBIs over his last 10 games versus Milwaukee, including playoffs.

"It feels good to get the win," said Molina, 6 for 8 in the series. "I don't look at my stats. I look at the end of the game. We got the win. That's a good day."

Milwaukee manager Ron Roenicke knows how dangerous Molina can be at the plate.

"I'm seeing the same guy," said Roenicke, whose Brewers (9-12) have lost three straight. "He killed us last year. He battles you; he's very hard to strike out."

This is these teams' 13th series in St. Louis since the Cardinals last swept the Brewers there July 28-29, 2007 - which included a doubleheader. Freese is 5 for 12 with a homer lifetime against Brewers starter Zack Greinke (2-1, 4.56 ERA), who will look to help prevent the sweep.
Quote:
St. Louis has won 14 of the last 18 overall meetings.
The Series:
Cardinals lead season Series 4-1
April 27, 2012-St. Louis 13, Milwaukee 1
April 28, 2012-St. Louis 7, Milwaukee 3
April 29, 2012-MIL (Greinke) @ STL (Garcia)-1:15 PM CDT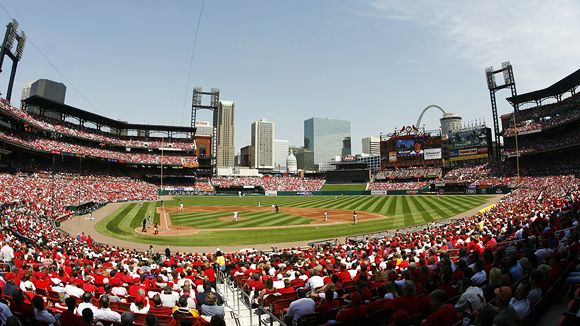 Baseball Reference 2012 Cardinals Statistics
2012 Current MLB Standings
2012 Current MLB Wild Card Standings
2012 Current MLB vs. Division Standings
2012 Current MLB vs. Expanded Standings
Last Game:
St. Louis 7, Milwaukee 3
WP: K. Lohse (4-0)
LP: M. Estrada (0-1)

HR: MIL - A. Ramirez (2), A. Gonzalez (4), STL - D. Freese (5), Y. Molina (4)

Link for entire article:
http://sports.yahoo.com/news/cardinals- ... --mlb.html

Cardinals beat Brewers 7-3
The Associated Press
Quote:
ST. LOUIS (AP) St. Louis Cardinals catcher Yadier Molina received two awards for his defense before Saturday's game with the Milwaukee Brewers. It was his offense that stole the show.

Molina went 4-for-4 with a two-run homer to lead the Cardinals to a 7-3 win over Milwaukee. Molina has 10 four-hit games in his career, the last coming on May 22, 2011, against Kansas City.

He has always been known for his defense as evidenced by the pregame presentation of his fourth consecutive Rawlings Gold Glove as a catcher and the inaugural Rawlings Platinum Glove awarded to the game's best overall fielder. Now he has become a force offensively as well, hitting .305 with 14 homers and 65 RBIs last season, all career highs.

But Cardinals manager Mike Matheny said Molina still knows what is most important

''I know where he stacks his priorities,'' Matheny said. ''His first responsibility is taking care of his pitching staff and doing what he needs to behind the plate. It's almost like a separate personality when he grabs the bat. It's two different games for him.''

The multi-hit game was the eighth for Molina this season. His home run to left field with one out in the sixth off Milwaukee starter Marco Estrada (0-1) broke a 3-3 tie and earned him a curtain call.

''It's nice,'' Molina said. ''When you got the best fans in baseball screaming your name it makes you feel good.''

Beyond that, Molina wasn't too excited about his performance.

''It feels good to get the win,'' he said. ''I don't look at my stats. I look at the end of the game. We got the win. That's a good day.''
Quote:
Cardinals third baseman David Freese celebrated his 29th birthday with a solo home run. Freese has a hit in 15 of the 17 games he's started and has driven in 20 runs.

Jon Jay had three hits, including an RBI single, and a stolen base for the Cardinals.

Estrada gave up five runs (four earned) with two walks and two strikeouts in six innings. Aramis Ramirez and Alex Gonzalez had solo home runs for the Brewers.

''I felt pretty good,'' Estrada said. ''They're a good hitting team. They capitalized on the mistakes I made.''

Before Saturday, Lohse had not allowed a run in the first five innings of any of his previous four starts. Ramirez ended that streak when he hit a 396-foot, home run into right center-field bleachers with one out in the fourth to make it 2-1.

Freese answered that with a 407-foot shot to the same area leading off the bottom of the inning. But Gonzalez led off the fifth with a homer, and the Brewers tied it when Lohse walked Gonzalez with two outs in the sixth to load the bases, then walked George Kottaras to force in a run.