G. Keenan wrote:
Smith Corks One wrote:
heyzeus wrote:
Under the Constitution's definition of treason (aiding an enemy), we would need a declaration of war. They're not currently legally considered an "enemy."

Between the hacking, the interference, the incursions in Crimea and Ukraine, shooting down the Malaysian Airlines jet, and poisoning British citizens, I would support a formal declaration of war. Aiding Russia and conspiring with them is aiding an enemy of the US and its allies. The only thing keeping Trump from treason is that semantic distinction.
Don't know who this guy is, but he claims we don't actually need a declaration of war but are in a de facto state of war due to the nature of Mueller's indictments. (Couldn't figure out how to post a tweet so just took a screenshot.)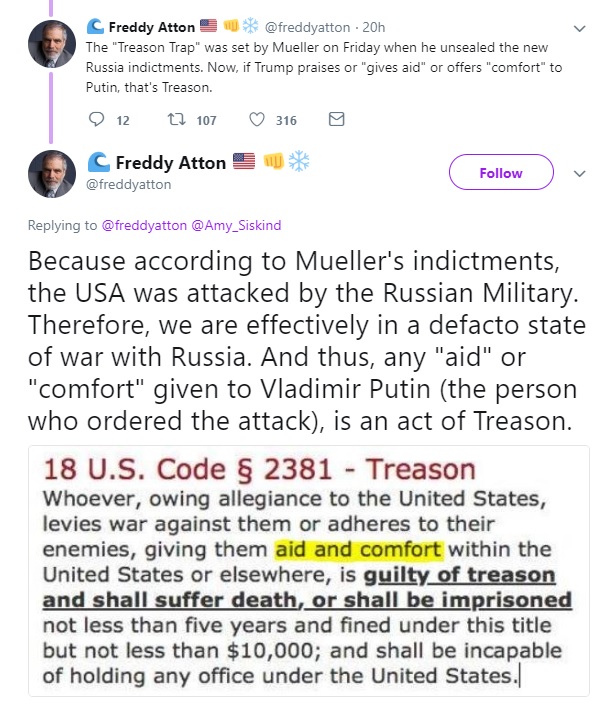 Well that all seems kind of nutty. What is a "de facto state of war?" That doesn't sound like a thing.
At this point Trump stands apart from the whole country on this issue. Our entire intelligence community, the Department of Justice, most of the Congressional GOP, every American with a pulse and greater than 5 brain cells. The question is why? Is Trump right and the other 299 million of us are wrong?
This mofo knows the Russians hacked the Clinton campaign to help him out because he was involved. He knew. He said it out loud on television.
A foreign power meddles in our elections and the president cannot even acknowledge reality.
Yeah, there's no way that language in an indictment can be relied upon as a "de facto state of war." It's Congress' job. Until we get a new Congress, the one we have is as compromised as our President.
Before this is all said and done - and it may take years for that to happen - there are going to be dozens of people who should (but won't) be executed by firing squad for crimes against their country.