Blue Line Jumps 11 Percent
6/07/00 3:00pm
NEW YORK–Excitement swept the financial world Monday, when a blue line jumped more than 11 percent, passing four black horizontal lines as it rose from 367.22 to 408.85.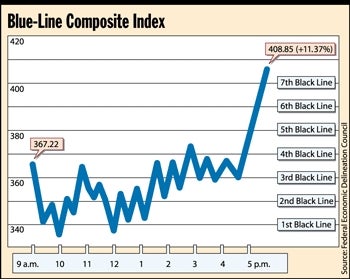 Blue-Line Composite Index
It was the biggest single-day gain for a blue line since 1994.
"Even if you extend the blue line's big white box back many vertical lines, you won't find a comparably large jump," said Milton Vogel, a senior analyst with Merrill Lynch. "That line just kept going up, up, up."
The blue line, which had been sluggish ever since the red line started pointing down in April, began its rebound with an impressively pointy 7 percent rise Friday. By noon Monday, it had crossed the second horizontal line from the top for the first time since December.
Ecstatic investors are comparing the blue line to the left side of a very tall, steep blue mountain.
"It's a really steep line," said Larry Danziger, a San Jose, CA, day trader and golf enthusiast. "I stand to make a tremendous amount of money as a result of the steepness of this line."
...