All Hail the New GDT Master
Posts: 24605
Joined: April 26 11, 6:06 am
Location: Columbus, OH
Giants vs Cardinals
6:45 PM CT - September 3, 2019
Busch Stadium - St. Louis
Watch: FSMW or NBCS BA
---
All Hail the New GDT Master
Posts: 24605
Joined: April 26 11, 6:06 am
Location: Columbus, OH
---
All Hail the New GDT Master
Posts: 24605
Joined: April 26 11, 6:06 am
Location: Columbus, OH
---
All Hail the New GDT Master
Posts: 24605
Joined: April 26 11, 6:06 am
Location: Columbus, OH
To channel his vintage self in Monday afternoon's 3-1 win over the Giants, Adam Wainwright had to watch his vintage self.

Over the past week, Wainwright asked Cardinals video coordinators Chad Blair and Ben Bultmann pull video from his best seasons -- 2009 and '10, and '12-14 -- so he could re-watch some of his best games.

"Just kind of rechanneled that focus that I had, that attack mentality I used to have," Wainwright said. "I had sort of gotten away from that over the last couple of starts, and today I wanted to attack. Try to be me."

Two of the games Wainwright watched Sunday night were from '09 and '10 against the Brewers and Reds, respectively. He pitched seven scoreless innings in both, and when he watched the games, he saw himself locked in and attacking hitters.

Wainright gave up four hits and zero runs to the Giants across seven innings, walking zero and striking out one. It led the Cardinals' to their 19th win in their past 23 games -- and four wins in their past five games over a three-day span -- which kept them in first place in the National League Central.

Another quality start was exactly what the Cards needed as they approach the end of the regular season looking to make the postseason for the first time since '15. Wainwright has been in this spot before. His message to the team as the division and NL Wild Card races heat up is to focus on winning the game at hand each day.

"This is going to be a cluster of really important games. ... It's going to be a whirlwind," Wainwright said. "The key to September is staying focused and staying within yourself and making sure we do the little things right that we've done all year. That's the key, not to let the moment overtake you. This is getting ready for October, but we're not in October yet. You've got to get there."
Infielder Edmundo Sosa joined the Cardinals on Monday, one day before he was scheduled to travel to St. Louis from Des Moines, Iowa, where Triple-A Memphis is finishing its season.

But with the Cardinals playing five games in three days, the club wanted to ensure that there would be enough bench players available. Outfielder Randy Arozarena will join the Cardinals on Tuesday and round out the team's September callups.

Memphis won 21 games in August, but needed a four-game sweep of the Iowa Cubs last weekend to be division champions after being 17 games back from first place in mid-July. The club was eliminated after losing on Friday and Sunday.

Sosa was a big reason why Memphis was able to make a push in August. Following his return from a three-game stint with the big league club on July 20, the shortstop has a slash line of .375/.401/.556 in his past 35 games, including seven homers, 28 RBIs and 16 multi-hit games in that span. His average was the highest in the Pacific Coast League over that stretch as well.
Catcher Matt Wieters was sporting a boot on his left leg Monday after getting an anti-inflammatory shot to help the calf strain that he suffered running the bases Saturday. There isn't a timeline for when Wieters could be playing again, but the Cardinals are optimistic.

"He got a shot, so just stabilizing it," Shildt said, "He's in a very optimistic place relative to what he's dealing with."
Michael Wacha will get the nod for Wednesday's game against the Giants on short rest after pitching seven innings in the second game of Saturday's doubleheader against the Reds.

Shildt said that Wacha will be on a "prescribed short leash," because of the three days' rest in between outings, and the Cardinals will be ready to use their bullpen. Wacha will have six days' rest after Wednesday, with the Cardinals' off-day on Sept. 9.

"I don't want to limit Michael]. He could throw seven innings on 50 pitches -- and I'm not saying that 50 pitches is the limit, I'm just using an example -- but he feels good," Shildt said. "I've talked with him about it. He's got his head around it. He's in a good spot. We won't push him, but we'll get some innings out of him, and I'm sure they'll be quality."
---
All Hail the New GDT Master
Posts: 24605
Joined: April 26 11, 6:06 am
Location: Columbus, OH
---
Perennial All-Star
Posts: 7414
Joined: September 8 09, 10:56 pm
Location: South County, St. Louis
Tomorrow use a picture of the Incredible Hulk for the Giants.
---
99% conan clips
Posts: 57124
Joined: April 18 06, 5:14 pm
The St. Louis Cardinals are 44-25 at home this season and are heavy favorites to beat the San Francisco Giants who are 36-33 on the road this season. The Cardinals have a better than 60% chance of winning based on 10,000 game simulations generated one play at a time by the AccuScore Simulation Supercomputer. Cardinals\' starter Jack Flaherty is forecasted to have a better game than Giants\' starter Dereck Rodriguez. Jack Flaherty has a 37% chance of having a Quality Start (QS) while Dereck Rodriguez has a 19% chance of a QS. If Jack Flaherty has a quality start the Cardinals has a 82% chance of winning. His simulated strikeout to walk ratio is 6 and he has a 49% chance of having a 5 to 1 K/BB ratio. When he has a 5/1 ratio the Cardinals win 70%. In Dereck Rodriguez quality starts the Giants win 57%. He has a 15% chance of having a 5 to 1 K/BB ratio and if he does his team wins 57% of simulations. In simulations we tracked the batter for each team that was most productive based his average hits, walks and RBI per simulation. The most productive batter for the St. Louis Cardinals is Marcell Ozuna who averaged 2.71 hits+walks+RBI. He has a 48% chance of having a big game with 3+ Hits, Walks, RBI and if he has a big game the Cardinals have a 78% chance of winning. The most productive batter for the San Francisco Giants is Mike Yastrzemski who averaged 2.09 hits+walks+RBI. He has a 34% chance of having a big game with 3+ Hits, Walks, RBI and if he has a big game the Giants have a 46% chance of winning.
---
Everday Unicorn
Posts: 35763
Joined: April 21 06, 10:14 am
Location: Austin, TX
Contact:
If you'd told me pre-season that the Cards would have a 3 game lead in the division on September 3, my assumptions would've been:

-Goldschmidt is having an mvp-caliber season
-Carpenter continues to be a middle of the order power threat
-Jordan Hicks is a shut down closer
-Carlos Martinez anchors the top of the rotation
-Bader has emerged as a solid CF (and if not Bader, Tyler O'Neill)
-The big Andrew Miller gamble pays off as an elite fireman
-Alex Reyes gets past his injuries to contribute to the rotation.

This season sure has had peaks and valleys. But man, it's been surprising.

-Flaherty emerges as a young ace
-Hudson emerges as a solid top of the rotation guy
-Kolten Wong's offense matches his slick defense
-Gallegos becomes a top flight reliever
-Fowler bounces back from the abyss
-Adam Wainwright, perfectly cromulent innings eater
---
Everyday Player
Posts: 483
Joined: May 23 12, 3:16 pm
We still doing these?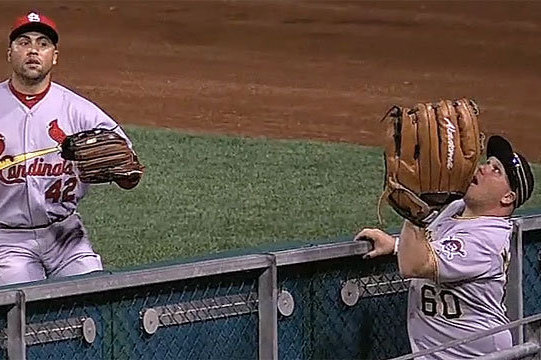 ---
There's someone in my head but it's not me
Posts: 44915
Joined: April 18 06, 5:08 pm
Location: Clowns to the left of me. Jokers to the right. Here I am.
---