St.Louis
(62-49) at Cincinnati
(64-49)
August 10, 2010
7:10 PM ET, 6:10 PM CT, 5:10 PM MT, 4:10 PM PT
Great American Ball Park, Cincinnati, Ohio
TV: FSOH, FSMW
RADIO: KTRS 550
J. García (9-5, 2.53) J. Cueto (11-2, 3.24)
http://sports.yahoo.com/mlb/preview?gid=300810117
The St. Louis Cardinals set up their rotation to have their three best starters go in this three-game set against the Cincinnati Reds in a matchup of the top teams in the NL Central.

The plan has worked through one game.

The Cardinals will send Jaime Garcia to the mound Tuesday night at Great American Ball Park and can move into a virtual tie atop the division with a victory over the Reds, who counter with ace Johnny Cueto.

St. Louis (62-49) used Skip Schumaker's first career grand slam as part of a seven-run fourth inning Monday, and that cushion was more than enough for its ace. Chris Carpenter cruised through seven innings in a 7-3 victory that pulled the Cardinals within one game of the Reds (64-49).

"That's the first time it's happened in my career," said Schumaker about his grand slam. "Everyone gets lucky once in a while. I probably hit it in the right park."

Carpenter has won his last nine starts against the Reds, a streak that started in 2006.

A victory Tuesday would pull St. Louis even in terms of games, and give the Cardinals a better winning percentage than the Reds.

"It's a good start," Schumaker said.

The rotation has been juggled with Garcia (9-5, 2.53 ERA) following Carpenter, and 16-game winner Adam Wainwright pitching Wednesday afternoon. The Cardinals are 46-24 in games started by Carpenter, Garcia and Wainwright for the best mark by any three qualifying pitchers on one team in the majors.

Garcia beat the Reds twice in May, posting a 2.92 ERA with left-handed hitters Joey Votto and Jay Bruce combining for eight hitless at-bats against him.

The rookie left-hander enters after an ugly outing last Tuesday against Houston. He allowed a career-high eight runs - four earned - over five-plus innings in an 18-4 loss.

Garcia is 5-3 with a 3.12 ERA in 11 road starts this year.

The Reds will try to bounce back behind their best in Cueto (11-2, 3.24), who is 5-0 with a 1.55 ERA in his last eight outings. Cueto is 6-0 with a 2.47 ERA in 10 starts against division opponents this year, including 1-0 with a 3.75 ERA in three versus St. Louis.

The right-hander went 3-0 with a 2.39 ERA over five starts against the Cardinals before allowing a season-high eight runs over five-plus innings and not receiving a decision in a 9-8 victory June 1.

Albert Pujols, who is 19 for 40 with five homers and 12 RBIs during a nine-game hitting streak, is 3 for 14 with no homers in his career against Cueto.

Cueto is 5-0 with a 3.58 ERA in his last eight home starts. He matched a career high with his 11th victory Wednesday, yielding one run in six innings of a 9-4 win at Pittsburgh.

Pujols had two hits Monday, and is 18 for 46 with 13 RBIs against Cincinnati this year. Matt Holliday is 13 for 40 with 10 RBIs in the season series, with St. Louis holding an 8-5 edge.

The Reds lost for the third time in 12 games. Votto, Scott Rolen and Jim Edmonds - acquired Monday in a trade with Milwaukee - combined to go 1 for 10.
The Series:
St. Louis leads Regular Season Series 8-5 as of Tuesday 8/10/10
August 9, 2010-St. Louis 7, Cincinnati 3
August 10, 2010-STL (Garcia) @ CIN (Cueto) 6:10 PM CDT
August 11, 2010 -STL (Wainwright) @ CIN (Arroyo) 11:35 AM CDT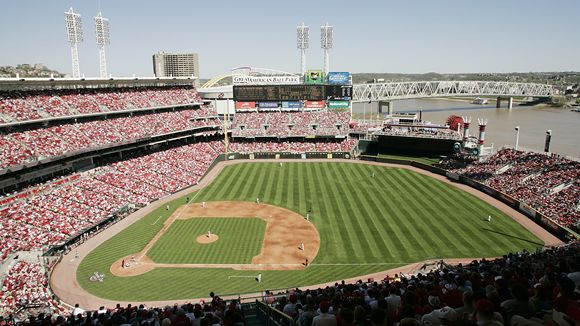 Great American Ball Park 100 Joe Nuxhall Way, Cincinnati, Ohio 45202
Last Game:
St. Louis 7, Cincinnati 3
WP: C. Carpenter (13-3)
LP: M. Leake (7-4)
HR: STL - S. Schumaker (4), CIN - R. Hernandez (5)
http://sportsillustrated.cnn.com/baseba ... recap.html
Schumaker hits slam, Cardinals beat Reds 7-3

CINCINNATI (AP) -- Skip Schumaker hit his first career grand slam during St. Louis Cardinals' biggest inning of the season, supplying more than enough runs for right-hander Chris Carpenter to beat the Cincinnati Reds for the ninth time in a row, 7-3 on Monday night.

The Cardinals provided a lopsided start to their showdown for first place in the NL Central, trimming Cincinnati's lead to one game.

St. Louis sent 12 batters to the plate for seven runs in the fourth, giving rookie Mike Leake (7-4) his worst moments in the majors. Schumaker's grand slam - only his 19th career homer - made it 6-0.

Carpenter (13-3) has won his last nine starts against the Reds, a streak that started in 2006. He gave up five hits and a pair of runs in seven innings.

Ramon Hernandez had three of Cincinnati's seven hits, including an RBI double off Carpenter and a solo homer off Kyle McClellan .

The crowd of 36,353 was revved for one of the most meaningful series in Great American Ball Park's eight-year history. The Reds haven't been in first place so late in a season since 1999, when they were playing at Cinergy Field.

The Cardinals left the fans silently sweating in their seats.

The teams have been locked in a back-and-forth race since mid-May, never separated by more than three games since then. St. Louis leads the season series 8-5. They meet only one more time, for a three-game series in St. Louis from Sept. 3-5.

St. Louis has its top three pitchers set to start against the Reds during their showdown series - Carpenter, Jaime Garcia and Adam Wainwright . The Reds opened with a rookie.

For one of the few times, Leake looked like one.

St. Louis opened the fourth with six consecutive hits. The clincher came from Schumaker, who hadn't played since Wednesday because of a sore left wrist. His grand slam landed next to the Reds' bullpen in center and got Leake uncharacteristically flummoxed.

Leake even lost track of outs. He fanned Brendan Ryan for the second out in the fourth, then started jogging off the field. He realized his mistake just before reaching the foul line, turned around and gave up a single by Felipe Lopez . Manager Dusty Baker decided that was enough.

In his last two starts, Leake has given up 14 runs (six earned) and 15 hits in 8 2-3 innings. He sat in the dugout with sweaty hair stuck to the side of his forehand and a faraway expression in his eyes.

Carpenter had his way with the big lead, extending his streak of dominating an offense that leads the NL in batting, runs and hits. The right-hander beat the Reds four times last season, and now has beaten them four times already this season.

The Reds brought in another ex-Cardinal before the game, adding outfielder Jim Edmonds through a trade with Milwaukee. Edmonds played for Reds general manager Walt Jocketty in St. Louis. Edmonds started in center and went 0 for 4 with a strikeout.

NOTES: Carpenter is 4-0 in six starts since the All-Star break with a 1.79 ERA. ... Albert Pujols extended his hitting streak to nine games. He also walked for the first time in 12 games. ... Reds RHP Aaron Harang plans to throw a simulate game on Tuesday, then start a rehab assignment in the minors. Harang has been in the disabled list since July 6 with lower back spasms. ... The Reds optioned LHP Travis Wood to Triple-A to create a spot for Edmonds. Wood was going to miss his turn in the rotation because of two days off in the next week.
Pictures: