St. Louis
(92-74) at Philadelphia
(104-62)
October 7, 2011
8:37 PM ET, 7:37 PM CT, 6:37 PM MT, 5:37 PM PT
Citizen's Bank Park, Philadelphia, Pennsylvania
TV: TBS
RADIO: KMOX 1120 & ESPN RADIO

Series tied 2-2
C. Carpenter (11-9, 3.45) R. Halladay (19-6, 2.35)
http://sports.yahoo.com/mlb/preview?gid=311007122
PHILADELPHIA (AP) -- Roy Halladay and Chris Carpenter grew up together with the Toronto Blue Jays, and the BFFs have spent plenty of time competing on golf courses and fishing boats.

The stakes will be much higher when the All-Stars go head-to-head on a mound for the first time Friday night.

It'll be Halladay vs. Carpenter in Game 5 with a berth in the NL championship series on the line for the Philadelphia Phillies and St. Louis Cardinals.
"You definitely look forward to it," Halladay said Thursday. "Not only is Chris a good pitcher, but obviously a good friend. We've talked about this scenario. I think it's something we're both looking forward to. It's going to be a challenge."Going in, you know what you're up against, you know how good they are, you know how good Chris is. We haven't got a chance to pitch against each other, and if you're going to do it for the first time, might as well be now," he said.

The best buddies already have made offseason plans for a fishing trip. One of them will get a head start on his vacation.
"It's been a pretty good friendship for a long time," Carpenter said. "We've pitched together, we've vacationed together, we communicate a bunch during the offseason and during the season. He just invited me to go fishing this winter, so I mean, we've got a real good relationship. It's going to be a lot of fun."This is a "dream matchup," according to Cardinals manager Tony La Russa, who set it up by pitching Carpenter on three days' rest for the first time in his career in Game 2."They've got so much common history and they're both great pitchers, great competitors, and now we're going to do it," La Russa said. "It's going to be as good as it gets. We're looking forward to being there and trying our best. And they are so close, they both have a lot of weapons. You can see each of those guys four times and they'll give you something different all four times. Halladay is every bit as good as his record and his awards and all that, but Carp is in that same category."

The Phillies, heavy favorites entering the division series, are counting on the ace of their star-studded rotation to outduel his pal and put away those pesky Cardinals.

The pressure will be on Halladay, though he downplays it. Nothing less than a World Series title will satisfy anyone in Philadelphia. Those franchise-record 102 regular-season wins won't mean a thing if the Phillies don't advance.
"I don't think you can get too caught up in what game it is, and what it means," Halladay said. "I think if you go out thinking: 'Wow, this is everything, all-in-one,' I think it can make too much out of it."

Halladay beat the Cardinals in the opener, despite a shaky start. He allowed a three-run homer to Lance Berkman in the first inning, but dominated the rest of the way. Halladay retired the last 21 batters he faced, and turned an eight-run lead over to the bullpen in an 11-6 win. He allowed three runs and three hits, striking out eight in eight innings.

Carpenter struggled in his start, allowing four runs and five hits in three innings in his shortest outing of the season. But the Cardinals overcame a 4-0 deficit against Cliff Lee and beat the Phillies 5-4 to even the series.
"Carp is all about winning, bottom line," said third baseman David Freese , who had four RBIs on a homer and double in Game 4. "That's what he said after his outing. We fought back, and that's what Carp wants, he wants to win. And he wants that ball, Game 5, and he's going to be ready. He knows what we're going up against in Philly with Halladay and their offense, but I think that they understand that we're going to bring our A game. And it's going to be exciting. It's going to be a lot of fun, and we'll see what happens."

There are so many similarities between Halladay and Carpenter - right down to even their height and weight. Both are listed at 6-foot-6 and 230 pounds.

The 36-year-old Carpenter, the 15th pick in the 1992 amateur draft, is a three-time All-Star and the 2005 NL Cy Young Award winner. He's 144-92 in 14 seasons with the Blue Jays and Cardinals.

The 34-year-old Halladay, the 17th pick in the 1995 amateur draft, is an eight-time All-Star and he's won the Cy Young Award once in each league. He's 188-92 in 14 seasons with the Blue Jays and Phillies.

Halladay has more individual accomplishments and extra hardware on his trophy case. But Carpenter has something Halladay desperately wants: a World Series ring. Carpenter helped the Cardinals beat Detroit in the 2006 World Series.
"We feel confident with the guys that we have in our clubhouse, and we get to play the deciding game in front of our fans," Halladay said. "We all feel like this is something we can accomplish, and we know it's going to be a challenge, but I think we're all looking forward to it."

Carpenter had limited success with the Blue Jays, never winning more than 12 games in six years in Toronto. He was released after the 2002 season, and signed with the Cardinals two months later. His career really took off in St. Louis, though he's missed nearly three full seasons because of arm problems.

Halladay already was widely considered the best pitcher in the game when he joined the Phillies last year. He lived up to enormous expectations in his first season in Philadelphia, pitching a perfect game in the regular season, a no-hitter in his first postseason start and winning the Cy Young Award.

All those nights they stayed up late on the road, sitting in hotel rooms and talking about how to become better pitchers, surely worked out for both of them.
"I really felt like we grew together," Halladay said. "Coming up, we both kind of struggled with, we were supposed to come in and lead this team and be these great pitchers right out of the gate, and I think it was tough for both of us not really knowing how to go about that. But I really did feel like we kind of learned together, more mentally how to approach the game and how to play the game, and it was a lot of fun."It was just a great experience to go through that together, to learn together, to get better together, and ultimately coming out of there feeling like the time that we spent had really benefited both of us."

Both pitchers credit their friendship for helping them reach this point.
"We went through a lot of the same issues at the same time," Carpenter said. "A lot of it was mental. We both knew that we had quality stuff. But mentally as young kids with high expectations on you, this game is hard, and if you can't control that stuff in your mind and the game goes a thousand miles an hour, you're going to have a hard time executing, and fortunately we were able to figure it out."

The Cards are playing with house money. They wouldn't even be here without help from the Phillies. St. Louis trailed the Braves by 10 1/2 games on Aug. 25, but went 23-8 the rest of the way and earned a wild-card berth after Game 162 when Philadelphia completed a three-game sweep in Atlanta.

They haven't played like an underdog in this series, and they won't be happy simply pushing the Phillies to the limit.
"We haven't done anything yet," slugger Albert Pujols said. "We just tied the series."
The Series:
Series tied 2-2
October 1, 2011-Philadelphia 11, St. Louis 6
October 2, 2011-St. Louis 5, Philadelphia 4
October 4, 2011-Philadelphia 3, St. Louis 2
October 5, 2011-St. Louis 5, Philadelphia 3
October 7, 2011-STL (Carpenter) @ PHIL (Halladay)-7:37 CDT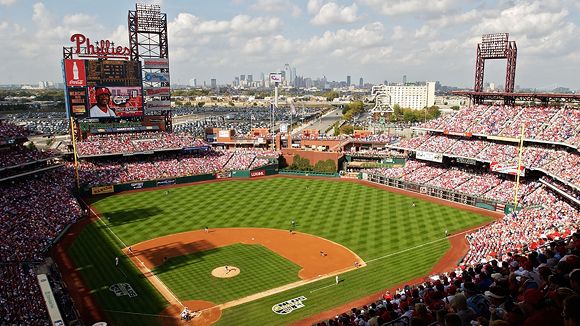 Citizens Bank Park, One Citizens Bank Way, Philadelphia, PA 19148
Last Game:
St. Louis 5, Philadelphia 3
WP: E. Jackson (1-0) S: J. Motte (2)
LP: R. Oswalt (0-1)
HR: STL - D. Freese (1)
Series tied 2-2
http://sports.yahoo.com/mlb/recap?gid=311005124
Freese, Cardinals force Game 5, beat Phillies 5-3
By R.B. FALLSTROM, AP Sports Writer

ST. LOUIS (AP) -- Big swings by a slumping hitter, clutch innings by a journeyman pitcher. Suddenly, the St. Louis Cardinals are looking very dangerous.

As for the Philadelphia Phillies ? Things have turned downright squirrelly.

David Freese , shut down by Phillies aces the first three games, became a hometown star Wednesday night. He homered, doubled and drove in four runs as the Cardinals defeated nemesis Roy Oswalt and forced a deciding fifth game in their NL playoff series by beating the favored Phillies 5-3.

"This is what you worked for," said Freese, a local prep star who came to the Cardinals in a trade for Jim Edmonds after the 2007 season. "Just to do this in front of the fans of St. Louis and a bunch of friends and family, it's amazing."

Center fielder Jon Jay made a sliding catch on Placido Polanco 's soft fly for the final out, and was already pointing his index finger before he got to his feet.

"We're not looking at this like we're just happy to be here and it's David and Goliath," Cardinals slugger Lance Berkman said.

Now it's back to Philadelphia for Game 5 on Friday night. Roy Halladay , who won the opener for the Phillies, will face St. Louis ace Chris Carpenter - they were teammates in Toronto for five years.

"Might be fitting that it goes down to the fifth game," Philadelphia manager Charlie Manuel said. "It's up to us to go get it. It's sitting right there for us. We've got our ace going, and we're at home, and so everything is sitting right there."

The 102-win Phillies were picked by many to win it all. But first they must dispose of the wild-card Cardinals, who clinched a playoff spot on the last day of the season and have gotten the best of two members of the Phils' star-studded rotation.

An omen, maybe: Right after Oswalt threw a pitch in the fifth, a squirrel darted across the plate.

Oswalt argued, unsuccessfully, that the creature's dash had distracted him on a pitch called a ball.

"I didn't want to stop in the middle of my motion, so I threw it," Oswalt said. "I was wondering what size of animal it needed to be for it not to be a pitch."

Manuel argued, to no avail.

"Of course, being from the South and being a squirrel hunter, if I had a gun there, might have did something," Manuel said. "I'm a pretty good shot."

Albert Pujols was hitless in four at-bats in what could have been his final home game with the Cardinals. He received thunderous cheers every trip to the plate from a standing room crowd of 47,071, second-largest at 6-year-old Busch Stadium.

Pujols made his presence known on defense, catching Chase Utley going for an extra base in the sixth. Utley drew a leadoff walk and kept running on Hunter Pence 's grounder to short, but Pujols alertly jumped off first base to catch the throw and made a sharp relay to third for the out.

"This is obviously the playoffs, but that's a play I can make in the regular season, too," Pujols said. "If I would have stayed on the bag, it was going to be tough to get the runner at third. Obviously, that killed the rally right there."

Edwin Jackson recovered from a rocky beginning to win his first playoff start. After giving up two runs on his first five pitches, he wound up throwing six solid innings. Jason Motte worked a perfect ninth for his second save of the series.

Phillies cleanup hitter Ryan Howard , like Freese a St. Louis product, was 0 for 4 with three strikeouts. He is 0 for 8 the last two games with five strikeouts and has hit only one ball out of the infield.

"I think I've been a little bit anxious trying to go up and trying to make things happen instead of letting things happen," Howard said. "Right now I'm just kind of jumping, so just try to recognize pitches better."

Oswalt had been 5-0 with a 3.25 ERA in 10 previous postseason starts, the biggest closing out old Busch Stadium and the Cardinals in 2005 to get Houston to its first World Series. The right-hander also worked seven shutout innings against St. Louis in the Phillies' NL East division clincher in mid-September.

"It's good to get some early runs, for sure," Oswalt said. "I felt pretty comfortable after that. Just two bad pitches."

The biggest jolts for the Cardinals came from their seventh-place hitter. Freese was 2 for 12 the first three games with one RBI before punishing the fourth of the Phillies' aces.

Freese's two-run double down the third-base line in the fourth put St. Louis up 3-2. His two-run homer to straightaway center in the sixth whipped the crowd into a towel-waving frenzy.

Oswalt walked Berkman and hit Matt Holliday , making his first start of the series, to start the fourth. Pence made a fine running catch on the right field warning track to rob Yadier Molina of extra bases, but Freese jumped on a hanging curveball with a drive down the left-field line.

Holliday singled with one out in the sixth and Freese hit a 1-0 pitch to the pasture in straightaway center, not far from where a squirrel made an early appearance, for a three-run cushion. A squirrel also interrupted play in the fifth, racing across the plate an instant after Oswalt's pitch to Skip Schumaker passed for a ball.

Oswalt argued with plate umpire Angel Hernandez, asking for no pitch. On the next, Schumaker flied out.

In Game 3 Tuesday, a squirrel was seen scampering in foul territory along the third base line.

Five pitches into the game, the Phillies had a 2-0 lead with an assist from the late-afternoon playing conditions.

Jay, standing in bright sunshine while shadows, took one step in on leadoff man Jimmy Rollins ' drive on the first pitch of the game and retreated too late for a ball just over his glove that bounced over the wall for a ground-rule double.

Utley tripled just inside the first-base line three pitches later and Pence lined an RBI single on the next pitch.

NOTES: 2B Schumaker was taken out with a left hamstring cramp after a flyout in the fifth - the same at-bat the squirrel made its appearance. After disrupting play, the squirrel scampered through the stands. Schumaker is 5 for 8 in the series. ... Rollins doubled and had an infield hit his first two trips and has nine hits in the series. He has 14 multihit games in the playoffs, passing Howard for most in franchise history. ... The Cardinals became the second team to reach 100 postseason victories, trailing only the Yankees' 220.
Pictures: