Texas
106-71 at St. Louis
(99-79)
October 27, 2011
8:05 PM ET, 7:05 PM CT, 6:05 PM MT, 5:05 PM PT
Busch Stadium, St. Louis, Missouri
TV: FOX
RADIO: KMOX 1120, ESPN RADIO

C. Lewis (14-10, 4.40) J. García (13-7, 3.56)
http://sports.yahoo.com/mlb/preview?gid=311026124
ST. LOUIS (AP) -- It's already been a productive postseason for Colby Lewis . Next up, a shot at the biggest prize yet.

In Game 6 of the World Series on Wednesday night, Lewis gets the first chance to pitch the Texas Rangers to their first title. No doubt while pitching oh-so-carefully against Albert Pujols and the St. Louis Cardinals, he'll be leaning on past October triumphs.
"Well, you definitely think when you're in a kid, you want to be in this position, be on this stage," Lewis said. "I think just being in the situation that we were last year throughout the playoffs gives you more of an edge, more relaxation. That's for sure."

Jaime Garcia is back home where he's most comfortable, and the wild-card Cardinals are back in a familiar win-or-go-home mode, heading into a mound rematch from Game 2.

Three of Garcia's four postseason starts have been at Busch Stadium and the 25-year-old lefty has a 1.93 ERA at home. He outpitched Lewis in the first matchup with seven innings of scoreless, three-hit ball before the bullpen failed in a 2-1 loss.

Garcia was in top form in Game 2 with seven strikeouts and one walk.
"It's been the same for me the last two months basically, and I'm still going to try to do the same thing. Don't change anything, don't try to do too much because this is the World Series. That's kind of how I feel," he said.

Lewis beat the New York Yankees in the clinching Game 6 in the AL championship series last year. He doesn't mind being on the road, getting nine of his 14 wins with a 3.43 ERA, and has been stingy all postseason with a 2.95 ERA.

Facing Lewis in Game 2, the Cardinals were limited to one run on four hits with one extra-base hit in 6 1-3 innings. Manager Ron Washington expects to see the same pitcher again, and is confident there'll be zero stage fright.
"He totally believes in what he's trying to do out there," Washington said. "He never gets away from what he does best. Colby never doubts what he's capable of doing, and I think that's what makes him apart from some guys at this stage."

Garcia had plenty of must-win starts in September, steeling him for the postseason. The Cardinals overtook the faltering Braves on the final day of the season and Garcia was a key contributor, going 3-0 the final month.

He doesn't plan on changing much from his Game 2 start.
"It doesn't matter which team, which lineup, what part of the season it is," Garcia said. "It's just going out there and worrying about the little things that you can control."

The bigger question in La Russa's mind is what to expect from the lineup. The Cardinals were 1 for 12 with runners in scoring position in their 4-2 loss in Game 5 loss Monday night at Texas.
"Our confidence is very good that he's going to pitch well," manager Tony La Russa said. "And we're challenging our bats to do more."

La Russa twice declined discussing a potential Game 7 starter, although ace Chris Carpenter volunteered for duty on two days' rest. Carpenter, who allowed two runs in seven innings in Game 5, played catch Tuesday and said he felt fine.
"I think everybody's available for the rest of the year, don't you?" Carpenter said to reporters. "Whatever (La Russa) needs."

Kyle Lohse would be on regular rest but has struggled in the postseason. Edwin Jackson allowed three runs in 5 1-3 innings, throwing 109 pitches in Game 3. Fifth starter Jake Westbrook is a fringe option, having worked just one inning in the postseason.
"There isn't any part of me that doesn't want to have a Game 7," La Russa said. "But every other part of me says let's think about Game 6 first."

Matt Harrison , who lasted just 3 2-3 innings in the Cardinals' 16-7 blowout in Game 3, would be on turn to start Game 7 for the Rangers.
"We have two games to do it, we've got to play .500 ball," Lewis said. "But we definitely want to get it done as soon as possible, that's for sure."

Washington said he's tired of getting asked about pitchers being fatigued. Though the Rangers have two games to do it, there'll be no holding back.
"Every single person that's still playing baseball right now is tired," Washington said. "So that's no excuse."
The Series:
2011 World Series Schedule
Rangers lead series 3-2
Game 1: Wednesday, October 19, 2011-St. Louis 3, Texas 2
Game 2: Thursday, October 20, 2011-Texas 2, St. Louis 1
Game 3-Saturday, October 22, 2011-St. Louis 16, Texas 7
Game 4: Sunday, October 23, 2011-Texas 4, St. Louis 0
Game 5: Monday, October 24, 2011-Texas 4, St. Louis 2
Game 6: Thursday, October 27, 2011-Texas (Lewis) at St. Louis(Garcia)- 7:05 PM CDT
Game 7: Friday October 28, 2011-Texas (Harrison)at St. Louis(Undecided) 7:05 PM CDT -if necessary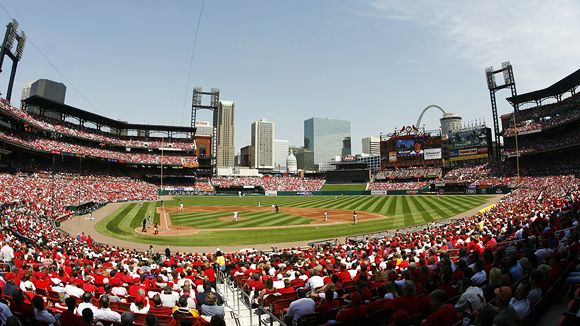 Baseball Reference 2011 Cardinals Batting Statistics
Baseball Reference 2011 Cardinals Pitching Statistics
Baseball Reference 2011 Cardinals Fielding Statistics
Baseball Reference 2011 Cardinals Batting Splits
Baseball Reference 2011 Cardinals Pitching Splits
Baseball Reference 2011 Cardinals League Division Series Statistics
Baseball Reference 2011 National League Championship Series Statistics
Last Game
Texas 4, St. Louis 2
WP: D. Oliver (1-0) S: N. Feliz (2)
LP: O. Dotel (0-1)

HR: TEX - A. Beltre (1), M. Moreland (1)
Rangers lead series 3-2
http://sports.yahoo.com/mlb/recap?gid=311024113
Napoli, Rangers move 1 win from World Series crown
By BEN WALKER, AP Baseball Writer

ARLINGTON, Texas (AP) -- Mike Napoli was dialed in, no matter who he was going to face.

A charmed season for Napoli and the Texas Rangers got even better Monday night, thanks to a most unlikely twist - a bullpen telephone mix-up.

After a dropped ball and a dropped call, of sorts, loaded the bases in the eighth inning, Napoli delivered a tiebreaking two-run double that beat the St. Louis Cardinals 4-2 and gave Texas a 3-2 edge in the World Series.

The Rangers moved within one win of capturing their first crown, which they can do Wednesday night in St. Louis.

"We certainly won't be out there thinking about we've just got to win one game," Texas manager Ron Washington said. "I've been there before, and that doesn't work."

And the Cardinals' approach? Maybe get a smartphone, or perhaps next time they should try texting the bullpen.

Napoli's go-ahead stroke came off Marc Rzepczynski , right after a potential double-play ball slipped away from the St. Louis reliever, causing manager Tony La Russa to put his hands to his head in exasperation.

More bruising, at least to the Cardinals: Rzepczynski wasn't even supposed to face Napoli.

La Russa said he called down to the bullpen earlier in the eighth and wanted Rzepczynski and closer Jason Motte to get ready. Instead, bullpen coach Derek Lilliquist heard only Rzepczynski at first. La Russa called again to ask for Motte and this time Lilliquist heard "Lynn," as in reliever Lance Lynn .

"I was more frustrated the double-play ball went off the glove and the fact we had numerous chances to add runs. That's probably more frustrating," La Russa said.

"The other part just happens. I mean, it's loud down there, and sometimes you call down there and you have to wait until the crowd and a guy gets up late. I mean, this is not unusual," he said.

Said Lilliquist: "You get a bunch of people, and it's loud."

"He wanted Motte going easy to back Zep up and I thought I heard Lynn. It transpired from there," he said. "It's basically miscommunication. It was loud. A lot of places are like that. The phone is as good as any phone anywhere."

The right-handed Napoli, meanwhile, was set to face the left-handed Rzepczynski with the one out and the score 2-all.

"I didn't really see anybody warming up in the bullpen, so I kind of figured I was going to face him," Napoli said.

"Just trying to get something to the outfield, you know, get a sac fly, get that run across the board," he said. "I was trying to stay short and I got a pitch I could handle over the middle of the plate and put it in the gap."

After Napoli put Texas ahead, the slugging catcher capped off his night of double duty by throwing out a would-be base stealer in the ninth as Albert Pujols struck out.

"Pujols is going to put it in play, he's a good contact hitter," Napoli said, "and they were just starting the runner, 3-2. As soon as I got it, I just got rid of it and put it on the bag."

In the seventh, Napoli threw out Allen Craig at second with Pujols at the plate. Apparently, Pujols put on his own hit-and-run, then didn't swing.

Texas can wrap it up in Game 6, with Colby Lewis facing Jaime Garcia . The weather forecast for Busch Stadium is daunting, calling for rain and temperatures around 50.

If the Rangers eventually do win it all, the Texas fans who stood and chanted Napoli's name may forever remember his two-run hit.

If the Cardinals lose, there's no doubt which play will stick with La Russa for a long, long time.

It was tied when Texas put runners on first and second with one out in the eighth, and Rzepczynski was summoned. David Murphy followed with a bouncer back to the mound, a possible inning-ending double play in the making.

But the ball appeared to glance off Rzepczynski's hand and trickled harmlessly away for a single that loaded the bases. In the dugout, La Russa immediately threw his hands to his head, a true "Oh, no!" moment.

Napoli, who came close to a three-run homer in his previous at-bat and hit a big homer in a Game 4 win, sent a drive up the alley against the pitcher with the nickname "Scrabble." The double off Rzepczynski sure spelled good things for Texas, with the excitable Washington waving the runners around from the dugout.

Darren Oliver earned the win and Neftali Feliz closed for his second save of the Series and sixth of the postseason.

Adrian Beltre and Mitch Moreland hit solo home runs off Cardinals ace Chris Carpenter . Texas had fallen behind 2-0 early with C.J. Wilson pitching.

Later, it became a battle of the bullpens and Texas prevailed.

Octavio Dotel gave up a leadoff double to Young in the eighth, struck out Beltre and intentionally walked Nelson Cruz . That left it up to Rzepczynski, and the game quickly slipped away.

La Russa appeared stunned by the turnaround. Later in the eighth, because of the mix-up, he brought in Lynn and had him issue an intentional walk to the only batter he faced. Motte eventually ended the inning, but it was too late.

Fittingly, Napoli had a role in the final play. Lance Berkman struck out and the ball hit Napoli's shin guard and trickled up the first base line, where the catcher picked it up and tossed to first base to end the game.

Pujols drew three intentional walks, including a pass with two outs and none on in the seventh. The St. Louis slugger then nearly used his legs to put his team ahead.

Pujols was running hard on a 3-2 pitch that Matt Holliday hit for a single to left-center. Pujols chugged around the bags and third base coach Jose Oquendo initially waved him home, only to put up a late stop sign.

Would Pujols have been safe on shortstop Elvis Andrus ' wide throw to the plate? Maybe. But it became moot when Berkman was intentionally walked to load the bases and David Freese flied out against Alexi Ogando .

NOTES: Playing on his 34th birthday, Rafael Furcal led off the game with a liner that 3B Beltre backhanded. Furcal started Game 4 the same way. ... Wilson matched the postseason record for walks - 19 - set by Cleveland's Jaret Wright in 1997. Wilson's 11 walks in the World Series are the most since Allie Reynolds in 1951. ... Cardinals reliever Arthur Rhodes turned 42. He's the oldest player to celebrate a birthday while playing in the Series. Jim Palmer was 38 in 1983.