Texas
(106-72) at St. Louis
(100-79)
October 28, 2011
8:05 PM ET, 7:05 PM CT, 6:05 PM MT, 5:05 PM PT
Busch Stadium, St. Louis, Missouri
TV: FOX
RADIO: KMOX 1120, ESPN RADIO

M. Harrison (14-9, 3.39) C. Carpenter (11-9, 3.45)
http://sports.yahoo.com/mlb/preview?gid=311028124
On two separate occasions, the Texas Rangers found themselves one strike away from their first World Series championship in franchise history.

Instead, David Freese and Lance Berkman have given the Cardinals the unlikely opportunity to win Game 7 on Friday night at Busch Stadium.

After rallying from two-run deficits in the 9th and 10th innings behind Freese's two-run triple and Berkman's RBI single, respectively, Freese - the NLCS MVP - continued his epic postseason by crushing a walk-off home run off reliever Mark Lowe in the 11th to give St. Louis an improbable 10-9 win Thursday.

No team had ever come back twice in the ninth inning or later to tie a World Series game or take the lead.

"Man that was incredible," said Freese, batting .393 with five homers and 19 RBIs during the postseason. "But we fought back, we made some mistakes early on, but the way the Cardinals and we've all have been playing lately, you expect to come back like this. This is just a good feeling and I'm pumped were playing (Friday).

"Just an incredible feeling, seeing all my teammates at the dish waiting for me."

Berkman, who manager Tony La Russa moved up one spot into the No. 4 hole ahead of slumping Matt Holliday , finished the day 3 for 5 with a homer, four runs scored and three RBIs.

"I'm definitely not loose, I don't think this is fun," Berkman said. "It's obviously fun when you win, but going into the game it's not fun. It's not fun to go up there with a season on the line.

"But you know, I think the experience is incredible."

Holliday has gone 3 for 19 (.158) with no RBIs during the Fall Classic and made two significant blunders Thursday. After dropping a routine fly ball to start the fourth inning, the five-time All-Star was picked off third base with the bases loaded in the sixth.

Holliday was removed following the play with a bruised right pinkie and is uncertain for Game 7.

Texas, which snapped a 4-all tie in the seventh on back-to-back homers from Adrian Beltre and Nelson Cruz as part of a three-run rally, also led 9-7 in the 10th on Josh Hamilton 's two-run shot.

"You know, it's not that easy to win a world championship, as we found out tonight," manager Ron Washington said. "We'll bounce back (Friday). We've been in some tough situations before. We've always responded, and I expect us to respond (Friday)."

While surely hoping it wouldn't come to this, Washington has been adamant about giving the ball to Matt Harrison in Game 7 - even with the extra day off due to Wednesday's rainout.

That additional time off may have opened the door for Cardinals ace Chris Carpenter to take the mound. While all signs point to Carpenter making a third start in this World Series, La Russa did not declare him the starter following Thursday's win.

Carpenter, 3-0 with a 3.30 ERA over five postseason starts this season, most recently allowed two runs and six hits while throwing 101 pitches in seven innings of Monday's 4-2 loss in Game 5.
"I learned what my body's going to feel like, what my stuff's going to be like," Carpenter said. "You go out there and you make pitches. We'll see what happens. Everybody's going to be ready tomorrow, I can tell you that."

The 36-year-old right-hander, however, was hit hard in his only appearance on three days' rest. The 2005 NL Cy Young Award winner was tagged for four runs and five hits in just three innings - his shortest outing of the season - during a 5-4 victory in Philadelphia in Game 2 of the NLDS.

The only other options La Russa appear to have is Kyle Lohse , who is 0-2 with a 7.82 ERA in the 2011 postseason, and Edwin Jackson , who walked seven in 5 1-3 innings in losing Game 4 to Derek Holland .

Harrison also faltered in that game, yielding five runs - three earned - and six hits in 3 2/3 innings. The left-hander has gone 1-1 with a 5.02 ERA in three starts and four games during the postseason.

"Harrison is my Game 7 pitcher. Harrison has been a big part of this team all year," Washington said Wednesday. "I am not changing the things that I've been doing all year. That's why we are where we are, and that's why I'm saying Harrison."

Washington stood firm in that decision Thursday by bringing in Holland in the sixth inning to help the Rangers out of a bases-loaded jam. Holland, who held the Cardinals to two hits in 8 1-3 innings of that 4-0 Game 4 victory, did allow a homer to Allen Craig in the eighth.

Carpenter has had his way with Michael Young , holding him to just two hits in 12 career at-bats (.167) - including the postseason. Beltre and Mike Napoli , have in contrast, have each gone 4 for 8 with a combined three homers.

Napoli's 10 RBIs for are tied for the third-most in a single World Series, and Cruz's eight homers are tied with Barry Bonds (2002) and Carlos Beltran (2004) for the most in a single postseason.

The Rangers haven't suffered back-to-back defeats since a three-game skid Aug. 23-25 against Boston.

The Cardinals are making their record 11th appearance in a World Series Game 7, having gone 7-3 all-time. Though St. Louis, which is seeking its 11th World Series title, lost its last two such contests - in 1985 at Kansas City and 1987 at Minnesota.

With its Game 7 win over Milwaukee in the 1982 Fall Classic, St. Louis started an eight-game winning streak for home teams in seventh games of the World Series. The 1979 Pittsburgh Pirates were the last road team to win a decisive Game 7, beating Baltimore.

The 2002 Anaheim Angels were the last team to win a Game 7, defeating the San Francisco Giants .
The Series:
2011 World Series Schedule
Series tied 3-3
Game 1: Wednesday, October 19, 2011-St. Louis 3, Texas 2
Game 2: Thursday, October 20, 2011-Texas 2, St. Louis 1
Game 3-Saturday, October 22, 2011-St. Louis 16, Texas 7
Game 4: Sunday, October 23, 2011-Texas 4, St. Louis 0
Game 5: Monday, October 24, 2011-Texas 4, St. Louis 2
Game 6: Thursday, October 27, 2011-St. Louis 10, Texas 9, 11 innings
Game 7: Friday October 28, 2011-Texas (Harrison)at St. Louis(Carpenter) 7:05 PM CDT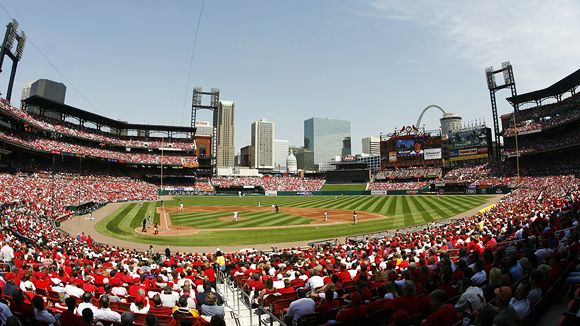 Baseball Reference 2011 Cardinals Batting Statistics
Baseball Reference 2011 Cardinals Pitching Statistics
Baseball Reference 2011 Cardinals Fielding Statistics
Baseball Reference 2011 Cardinals Batting Splits
Baseball Reference 2011 Cardinals Pitching Splits
Baseball Reference 2011 Cardinals League Division Series Statistics
Baseball Reference 2011 National League Championship Series Statistics
Last Game
St. Louis 10, Texas 9, 11 innings
WP: J. Westbrook (1-0)
LP: M. Lowe (0-1)

HR: TEX - J. Hamilton (1), A. Beltre (2), N. Cruz (2), STL - L. Berkman (1), A. Craig (2), D. Freese (1)

Series tied 3-3
Freese's walk-off homer
Berkman's game-tying single
Freese's two-run triple
Craig's solo jack
Molina's bases-loaded walk
Berkman's huge game
Freese on walk-off homer
La Russa on dramatic Game 6 win
http://sports.yahoo.com/mlb/recap?gid=311027124
Cardinals stun Texas, force World Series to Game 7
By BEN WALKER, AP Baseball Writer

ST. LOUIS (AP) -- Hours after David Freese 's home run plunked down on the grass patch beyond the center field wall, long after the ballpark emptied, a message still burned bright on the scoreboard: "See you TOMORROW NIGHT for Game 7 of the World Series!"

Whatever happens, whether the St. Louis Cardinals or Texas Rangers win, they'll have a hard time topping Thursday night.

"You had to be here to believe it," St. Louis manager Tony La Russa said.

In one of the greatest thrillers in baseball history, the Cardinals twice rallied when they were down to their last strike of the season. First, Freese saved them with a two-run triple in the ninth, then Lance Berkman delivered a tying single in the 10th.

And when Freese led off the bottom of the 11th with his shot to beat Texas 10-9 and stomped on the plate, this Game 6 had already been stamped forever.

"Turned out to be one for the ages," said Daniel Descalso , who keyed a Cardinals comeback.

A Series that was dismissed by many around the country before it began for lacking glamour teams suddenly has turned into must-see TV. And fans can savor the prospect of the first World Series to reach Game 7 since 2002, when the Angels beat the Giants.

After it was over, La Russa wasn't willing to announce his starter - many believe it will be ace Chris Carpenter on three days' rest for only the second time in his career.

"I learned what my body's going to feel like, what my stuff's going to be like," Carpenter said. "You go out there and you make pitches. We'll see what happens."

Matt Harrison is set to start for Texas. Derek Holland , who pitched shutout ball into the ninth inning in Game 4, could've been ready on regular rest after Wednesday's rainout. Instead, Texas manager Ron Washington used him in relief.

Home teams have won the last eight Game 7s in the World Series, a streak that started with the Cardinals beating Milwaukee in 1982.

Oh, and this: By far, the Cardinals have won the most Game 7s in Series history, going 7-3.

"There is tomorrow, now, for us," Cardinals star Albert Pujols said.

A sloppy game that made for terrible viewing turned terrific in the late innings. Freese added to the lore created by the Carlton Fisk homer in Game 6 of the 1975 Series and Bill Buckner 's error in Game 6 of the 1986 Series.

"A ridiculous game, weird game," Texas second baseman Ian Kinsler said. "But I bet it was fun for the fans. We just came out on the wrong end."

To Freese, who was raised in the St. Louis area and was MVP of the NL championship series, it all reminded him of a game-ending home run Jim Edmonds hit in the 2004 playoffs.

"Growing up or whatever, and you see stuff like that happen, those become memories," said Freese, who immediately donated his bat and jersey to the Hall of Fame.

Tremendous theater, that is, except for Texas. The Rangers were that close to winning their first championship.

"I understand it's not over till you get that last out," Texas manager Ron Washington said. "I was just sitting there praying we got that last out. We didn't get it."

This was just the third time that a team one out from elimination in the World Series came back to win the game, according to STATS LLC. The New York Mets did it with Buckner's mistake and wound up winning the championship. In 1911, the New York Giants rallied past the Philadelphia A's in Game 5, but lost the next game.

Freese's tying triple off the wall and just over right fielder Nelson Cruz came on a 1-2 pitch from closer Neftali Feliz . In the 10th, after Josh Hamilton had homered to give Texas a two-run lead, Berkman's two-strike, two-out single made it 9-all.

"Initially I was like `Are you kidding me? My first AB off Feliz in this situation ever,"' Freese said. "I just beared down, got a pitch to hit. Initially I thought I hit it pretty good, I thought (Cruz) was going to grab it, so just a lot of emotions on that one."

Berkman came through on a 2-2 pitch from Scott Feldman , finishing off a two-run rally in the 10th.

"I was one strike away," Feldman said. "That pitch there, I didn't quite get it in enough and he was able to get enough of the bat on it to knock it into center field."

Busch Stadium was still in frenzy when Freese opened the 11th with his homer off Mark Lowe . Freese thrust his arm in the air as he rounded first base, and the crowd was delirious.

"Just an incredible feeling, seeing all my teammates at the dish waiting for me," said Freese, whose shirt was torn off during the celebration.

Texas trudged off the field as Freese circled the bases, having been so close to that elusive title. Much earlier, team president Nolan Ryan was high-fiving friends in the stands as Adrian Beltre and Cruz opened the seventh with home runs that helped Texas take a 7-4 lead.

"I'm not going to lose any sleep over it," Hamilton said. "We're just going to do everything we can to prepare. Guys are already talking about it. We're ready for Game 7. Shake it off and come back tomorrow. That's just our mentality. But it goes both ways. Seems like they had that mentality. too."

Allen Craig 's solo homer in the eighth began the Cardinals' comeback. Jake Westbrook wound up with the win.

NOTES: Texas was 0 for 11 with two outs and runners in scoring position in the Series until Kinsler's RBI double. ... Berkman hit his first Series home run. He was moved up a spot to cleanup for this game. ... David Eckstein , MVP of the 2006 Series for St. Louis, threw out the first ball. ... Ninety-year-old Hall of Famer Stan Musial rode in on a golf cart during pregame festivities. ... The crowd of 47,325 was a record for 6-year-old Busch Stadium.