I get that, but me being me I'll still chip in another two cents here.
Check out that bar graph that ghost posted: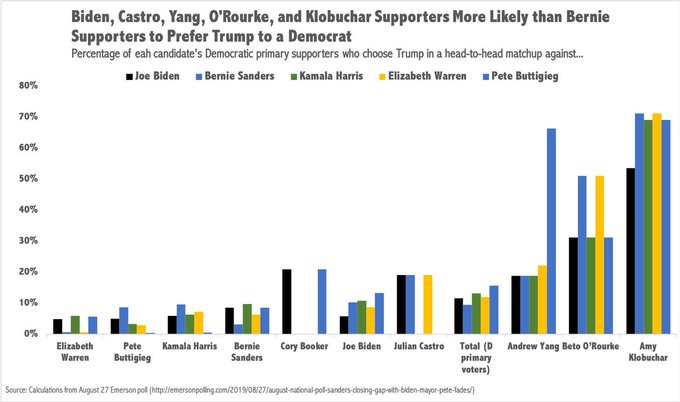 We can draw a lot of suppositions out of that, but the main one really is that at this point polls are more confusing than clarifying other than as a very general overview of name recognition.
But. While Sanders and Warren land pretty close on the issues and are widely and correctly perceived as being in line on most issues, we see that the Sanders voter is far more likely to abandon the Dems and vote Trump--according to this poll of almost 1500 registered voters, at least--than a Warren voter. Every single bar is higher for Sanders
including Sanders.
There is a certain political psychology or bucket of wants/needs in the Sanders camp that is not in line with the other Dem candidates. Considering that he is the most opposite of Trump--a socialist vs Trump's fascism--it's pretty crazy that his voters are more likely to jump ship and vote for his polar opposite than it is a Warren voter to do that. It speaks, IMO, to the populism and socialism (two different things) that come with Sanders and those are both things that are not popular with a wide swath of the country who see Warren as not carrying those labels. You can also account some or most of it to Sanders' status as Outsider. He's not a Dem, he's a Dem by necessity. No one would take him seriously as a third-party candidate and he'd have no debate platform during primaries and if he started four years ago running for POTUS as an Indie he'd have received a fraction the national media. It's important, IMO, to remember he's crashing someone else's party. He's doing a great job of it, lots of people have loved talking to him over the punch bowl and I totally saw Joe's girl flirting with him, but he's still kind of crashing a party.